Fish skewers and egg fried rice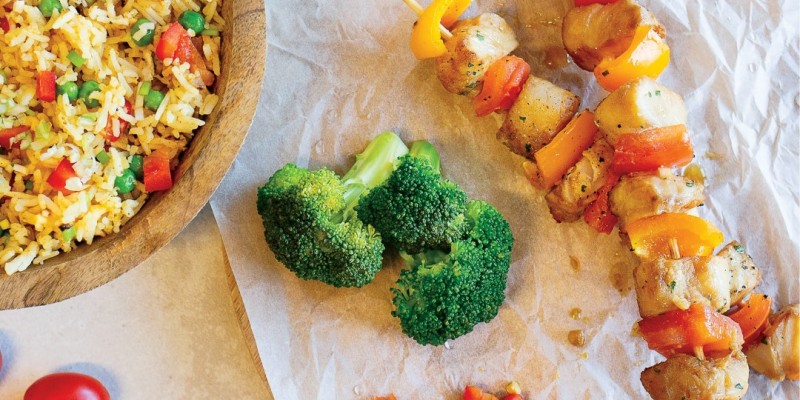 Category:
For Kids
|
Oven Dishes
|
With Seafood
4 fish fillets, cut in 3cm cubes (haddock, cod or monkfish)
6 wooden skewers, soaked
Fish marinade:
¼ cup low sodium soy sauce
1 tsp fresh ginger, grated
1 tsp garlic, grated
2 Tbsp lemon juice
1 Tbsp yogurt
1 Tbsp fresh coriander, chopped
For the egg fried rice:
4 cups cooked basmati rice
4 eggs, beaten
¼ tsp paprika
¼ tsp turmeric
½ tsp Mitsides Vegetable Powder
1 small onion, finely chopped
½ red pepper, finely chopped
2 spring onions, finely chopped
½ cup peas
¼ cup sweetcorn
2 Tbsp sunflower oil
salt and pepper
Place all the marinade ingredients in a bowl and mix well. Add the fish cubes and marinate for 20 minutes. Preheat the oven to 180°C. Skewer the fish cubes, evenly divided between six wooden skewers. Place on an oven proof dish and bake for 10-15 minutes.
 
Mix the eggs with the paprika, turmeric and vegetable powder. In a large and deep skillet heat the oil and add the onion and red pepper. Cook until softened. Add the rice which you have fluffed with a fork beforehand so that there are no lumps. Flatten out the rice and add the beaten egg and spices. Stir fry while mixing vigorously. Add the peas and corn and continue to cook for another minute. Add salt, pepper and spring onion and mix.
 
Divide rice in 6 plates topped with a fish skewer in each one.