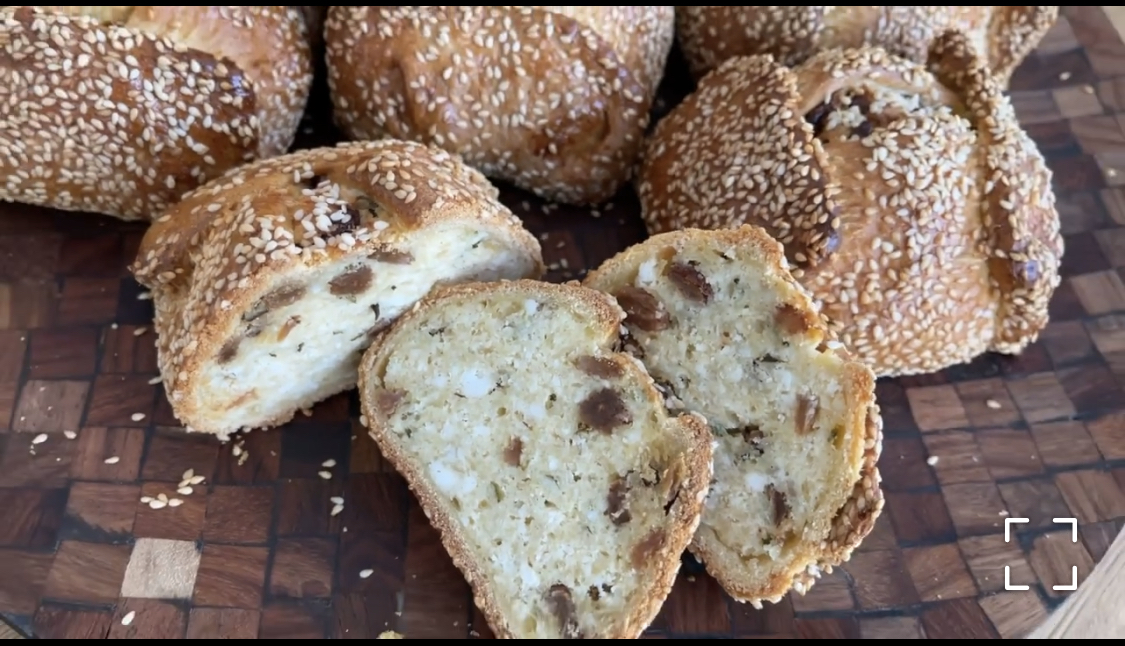 For the filling:
500 g fresh anari cheese, slightly salted
200 g halloumi, grated
100 g dry anari cheese, grated (or more halloumi)
⅓ cup fresh mint, chopped
175 g raisins
½ tsp mastic seeds, crushed
½ tsp mahleb seeds, crushed
1 Tbsp granulated sugar
60 g Mitsides Plain Flour (Farina "00")
60 g Mitsides Coarse Semolina
½ tsp baking powder
4 large eggs + 1 for brushing
About 1 cup sesame seeds
For the dough:
500 g Mitsides Plain Flour (Farina "00")
15 g baking powder
20 g granulated sugar
½ tsp mastic seeds, crushed
½ tsp mahleb seeds, crushed
½ tsp salt
190 g fresh orange juice
65 g milk
125 g olive oil
In a large bowl, mix all filling ingredients except the extra egg and sesame seeds. Let the mixture stand while you prepare the dough.
In the bowl of a stand mixer, put the flour, baking powder, sugar, crushed mastic and mahleb seeds and salt. Give everything a quick stir and add the orange juice, milk and olive oil. Knead with the dough hook until a soft dough forms.
Weigh the dough and divide into 8 equal pieces. Do the same with the filling. Wash the sesame seeds and place on a flat plate. In a small bowl beat the extra egg for brushing.
Preheat oven to 180°C and line 2 baking sheets with greaseproof paper.
Roll each piece of dough into a 20 cm circle. Press dough circle on sesame to cover well on one side. Dough will shrink slightly so roll it again to reach back to 20 cm. Shape each piece of the filling into a ball. Place in the centre of the dough circle. Brush edges of dough with the beaten egg. Fold the dough inwards over the filling to make a square, leaving a small opening on top. Press down the dough corners to seal and transfer the "flaouna" on the baking tray. Repeat with the remaining dough and filling pieces to make a total of 8 "flaounes". Brush the "flaounes" all over with the beaten egg and bake for 40-45 minutes.