Fried tortellini with marinara sauce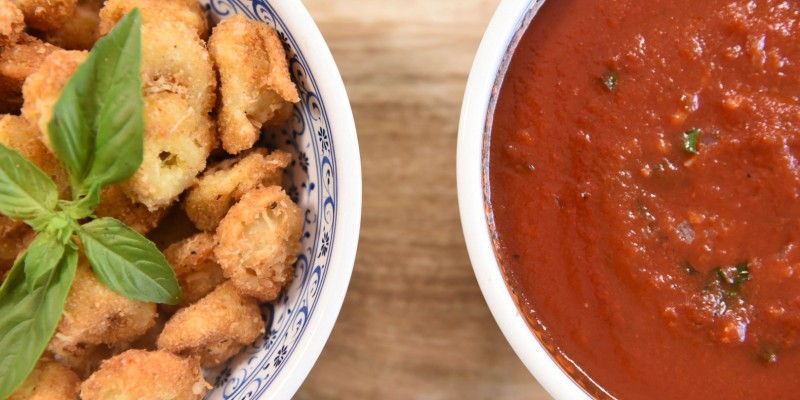 1 pack Mitsides Tortellini with cheese
2 eggs, beaten
¼ cup parmesan, grated
2 tsp Mitsides vegetable powder bouillon
½ cup breadcrumbs
1 cup Mitsides Plain Flour
2 cups sunflower oil
For the Marinara sauce:
1 Mitsides Passata 500g
1 Mitsides Tomato Paste 70g
2  garlic cloves, finely chopped
1 onion, finely chopped
1 cup basil leaves, chopped
olive oil
Cook the tortellini in plenty of boiling water for 12 minutes (2 minutes short of normal cooking time), drain and set aside to cool.
Meanwhile, heat some olive oil in a medium pan and add the onion and garlic. When softened, add the passata and paste. Season with salt and pepper and simmer covered for 10 minutes on low heat. When the sauce starts to thicken stir in the chopped basil, turn the heat off and let it stand.
In a large bowl, combine the breadcrumbs, parmesan and vegetable powder. In another two separate bowls, add the beaten eggs and the flour.
Heat the sunflower oil in a deep skillet. Take the drained tortellini and dip them, one by one in flour, then in the egg and then coat with the breadcrumb mixture. Fry the tortellini in the hot oil for 1-2 minutes on each side. Spread the fried tortellini on kitchen paper to absorb any excess oil.
Serve immediately with the sauce.