Grandma Corina's cheese pie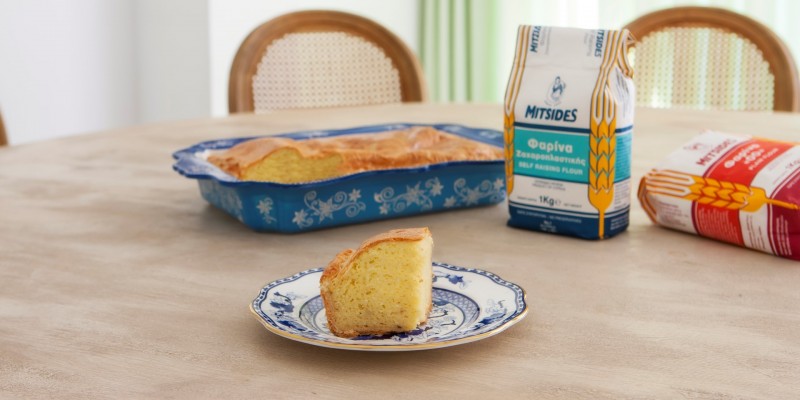 Category:
Pastries & Sweets
My grandmother Corina, apart from being a lovely, warmhearted, and beautiful lady, she was also a great cook! She liked good food but mostly she loved to cook for our family. There was always a ready meal or sweet in her house and there was no way anybody would leave her house without having something to eat first! Her cheese pie was one of my favorites and so I made sure to get hold of the recipe and make it every now and then in her memory!
For the Filling:
1 glass Gruyere cheese, grated
1 glass Regato cheese, grated (or kefalotiri for a stronger taste)
1 glass halloumi, grated
1 cup unsalted dry Anari, grated
1 tablespoon Mitsides Farina "00" (plain flour)
4-5 teaspoons BakingPowder
pepper
6 eggs (beaten)
For the dough:
1 cup Mitsides Farina "00" (plain flour)
1 cup Mitsides Self-Raising flour 
1 ½ teaspoon baking powder
1 cup unsalted butter
1 cup yogurt (strained)
½ teaspoon baking soda
To make the filling:
Grate all cheeses together in a blender or food processor. Empty in a large bowl and add the flour, baking powder and pepper and mix well. Add the beaten eggs and mix well with your hands. (Leave a little egg aside in the bowl to spread on the dough.
To make the dough:
Put all ingredients in a mixer bowl and mix well to make a dough. Divide the dough in two and roll out in thin dough sheets. 
Preheat the oven to 180°C. Spread one dough sheet in a rectangular, floured glass pan (pyrex), streching to also cover the sides. Pour in the cheese filling and cover with the second sheet. Join the corners of the two sheets and brush the surface with some beaten egg. Put the pyrex in the oven and bake for about 40 minutes or until golden brown.