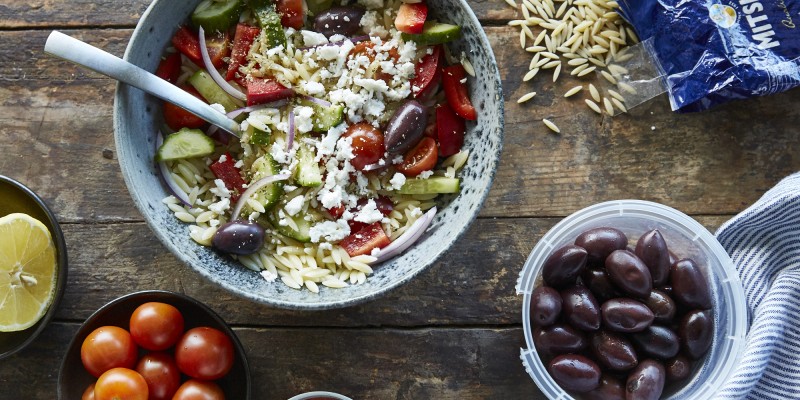 Category:
Salads
|
Vegetarian
1/3 cup Mitsides Orzo
1/2 red pepper, diced
1/2 cup diced cucumber
a few slices red onion, to taste
10 kalamata olives
2 tablespoons crumbled feta cheese
1/8 teaspoon freshly squeezed lemon juice
1/8 teaspoon freshly grated lemon zest
1 tablespoon red wine vinegar
1 teaspoon Cypriot or Greek oregano
salt and pepper to taste
2 tablespoons olive oil
In a serving bowl, add the red pepper, diced cucumber, red onion, olives, feta cheese, lemon juice, lemon zest and toss together. Cover the bowl and place in the fridge until it is time to add the orzo pasta.
In a pot of boiling water, boil the orzo pasta until al dente. Rinse with cold water to cool the pasta. Drizzle a little olive oil over top the orzo pasta to prevent it from sticking together.
Once the orzo pasta is cool (you may need to chill it in the fridge until it is ready to serve), toss it together with the ingredients in the serving bowl. Add salt, pepper, olive oil, oregano and red wine vinegar. Serve and enjoy!