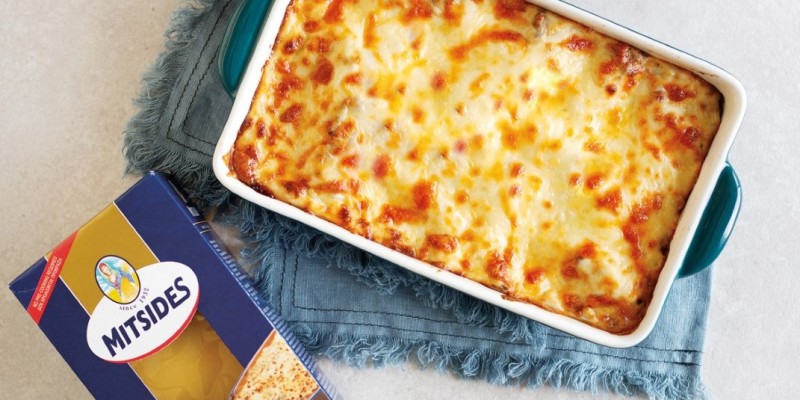 Category:
For Kids
|
Oven Dishes
|
Vegetarian
12 Mitsides Egg Lasagne sheets
1 cup fine lentils, boiled and drained
3 Tbsp olive oil
1 medium onion, chopped
1 garlic clove, minced
1 cup zucchini, grated
1 cup carrots, grated
1 cup mushrooms, chopped
1 red bell pepper,  chopped
1 tsp Mitsides Vegetable Powder
½ tsp cinnamon
1 tsp dried thyme
1 small pack Mitsides Passata (200g)
1 can Mitsides Chopped Tomatoes
½ cup whole milk
For the cottage cheese mixture:
1 cup cottage cheese
1 large egg, beaten
1 cup halloumi cheese, grated
For the bechamel:
2 Tbsp butter
2 Tbsp Mitsides Plain Flour
¾ cup whole milk
½ tsp paprika
½ tsp Mitsides Vegetable Powder
½ cup cheddar cheese, grated
Preheat the oven to 180°C.
Prepare the veggie sauce. In a medium sized saucepan heat the olive oil and add the onion. When softened, add the garlic, veggies, vegetable powder, cinnamon and thyme and cook for 5 minutes. Add the passata and chopped tomato and cook for 10 minutes. Puree the sauce with a hand blender. Add the milk and cooked lentils and set aside.
To make the cheese mixture, mix the cottage cheese, halloumi and egg in a bowl. To make the bechamel, melt the butter in a small saucepan. Gradually add the flour, stirring with a whisk, then add the paprika and vegetable powder and gradually add the milk. Add the cheese and continue to stir until melted.
To assemble, take a rectangular (20cmX14cm) baking dish and add some veggie sauce. Top with a layer of lasagne. Add some more sauce and top with some cheese mixture. Add another layer of lasagne, sauce and cheese mixture. Repeat twice and finish by spreading the bechamel on top. Cover with foil and bake for 30 minutes. Uncover and bake for another 15 minutes until golden.