Lobster Macaroni & Cheese with Anari and «Arkatena» Crust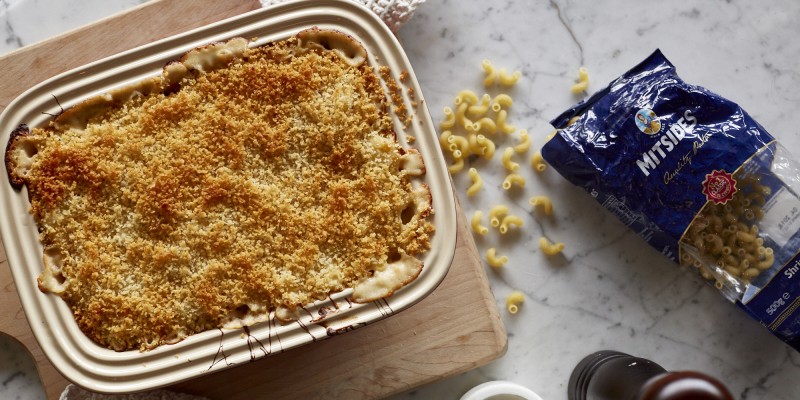 375g Mitsides Shrimps Pasta
3-4 lobster tails, de-shelled and with the meat cut into small chunks
A dash of Hungarian paprika
4 tablespoons salted butter
4 cups lukewarm semi-skimmed milk
2/3 cup Mitsides All Purpose Flour
3 cups grated mature cheddar cheese
2 cups grated Swiss cheese
1 cup grated salted Anari cheese
2/3 teaspoon freshly ground pepper
A generous dash of All spice or nutmeg
salt to taste
2 tablespoons salted butter
1 ¾ cups Arkatena Bread Crumbs, (Cypriot bread made from fermented chickpeas)
1. Cook the pasta in boiling salted water until al dente while you are preparing the sauce. Once the pasta is done, drain it and drizzle with a little olive oil or add a little butter to the pasta so that it doesn't stick together.
 
2. Preheat the oven to 190°C. Sprinkle a little paprika over the lobster meat. In a large non stick frying pan over medium high heat, add in the lobster shells and meat. Stir fry until the lobster meat has just cooked through. Slightly turn down the heat. Remove from the meat from the pan and place in a bowl. Remove the shells and discard.
 
3. Add the 4 tablespoons of butter to the pan, and add the flour. Whisk the mixture together until the flour has cooked, probably about 3 minutes. Don't let the flour burn. Slowly whisk in the milk. Once the milk has been whisked in and a creamy looking sauce has been created, remove the pan from the heat.
 
4. Stir the cheeses, ground nutmeg, ground pepper and salt to taste into the mixture. Add the drained shrimp pasta and cooked lobster chunks into the sauce and stir well, ensuring that each shrimp pasta is coated with sauce. Taste and add a little more salt if necessary and/or cheese if it is a little runny.
 
5. Pour the macaroni and cheese into a large rectangle pyrex dish. You may need two pyrex dishes, if your one dish isn't large enough. The size of the dishes doesn't really matter.
 
6. In a small pot on the stove, melt the 2 tablespoons of butter. Once melted, add in the Arkatena bread crumbs and stir to coat. Spread the breadcrumbs evenly on top of the macaroni and cheese.
 
7. Place into the oven and bake for 30 to 40 minutes, until the breadcrumbs are nicely browned, and a little of the cheese mixture is coming through the cracks of the crumb topping.