Mac and Cheese with mushrooms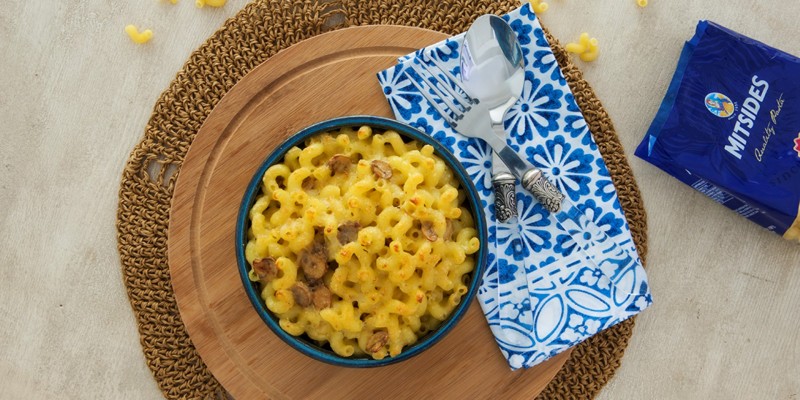 Category:
Oven Dishes
|
Vegetarian
1 package  Mitsides shrimp pasta 500g
200g. mature cheddar, grated
200g. Gruyère cheese, grated
200g. parmesan cheese, grated
1 onion, chopped
500g. mushrooms, sliced
50g. butter
Vegetable broth
olive oil
Salt Pepper
nutmeg, freshly grated (optional)
The process of making the traditional Mac and Cheese is not so simple and so I always avoided making it because I would dirty so many pots and pans! Recently, my husband (food lover and the biggest fan of mac and cheese) showed me a very simple and quick way to making, using only one pot ... OK, in this case, two!
1. In a large and deep pan, heat the butter with a little olive oil and add the onion. When the onion is starting to soften, add the pasta and "fry" it, stirring for 3-4 minutes. Pour enough broth to cover the pasta and let it absorb the water. Add a little more water and stir until the pasta is cooked al dente.
2. Meanwhile, in a small pan put some olive oil and fry the mushrooms, adding salt and pepper. When ready, set aside.
3. When the pasta is ready and the broth has been absorbed, add the grated cheeses, nutmeg and the mushrooms. Mix well to form a smooth "cheesy" mixture! If you wish, you can transfer the pasta in an ovenproof dish and place in the oven (grill setting) for 5-6 minutes until the surface turns golden brown.