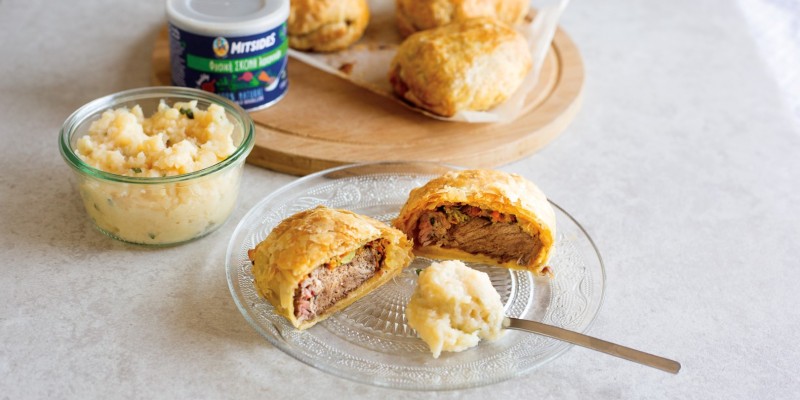 Category:
For Kids
|
Oven Dishes
|
With Meat & Poultry
400g beef tenderloin
1 cup mushrooms, finely chopped
1 cup carrots, finely chopped
1 cup broccoli, steamed and finely chopped
1 onion, finely chopped
1 tsp Mitsides Vegetable Powder
½ tsp dried oregano
1 Tbsp olive oil
salt and pepper
1 puff pastry sheet, defrosted
1 egg, beaten
Preheat the oven to 200°C.
Cut the beef in 4 rectangular pieces (approximately 8cmx4cm). Season with olive oil, salt and pepper. Heat a pan over high heat and sear all sides of the beef, until golden brown. Remove from the pan and set aside.
In the same pan heat a bit more olive oil and add the mushrooms, carrots, broccoli, onion, vegetable powder and oregano. Cook until all liquids have evaporated. Remove from the heat and once they cool down empty the vegetable mixture on a tea towel and squeeze to remove any remaining liquids.
On a clean and slightly floured surface, place the puff pastry sheet. Cut the pastry sheet in 4 equal pieces. To make the first Wellington, take 2 tablespoons of the vegetable mixture and place in the centre of the sheet. Spread it into a thin layer. Place the mini beef piece on top. Take the two shorter sides and fold up over the meat. Press down the edges with a fork and brush with some egg. Then fold the longest side over and again press down with a fork. Fold over the remaining side and cut it so that it stops at the middle of the mini parcel. Press again to seal the parcel and brush with egg. Place the parcel with the seal side down on a baking tray lined with parchment paper.
Repeat to make the remaining parcels. Bake the Wellingtons for 20 minutes in the oven until golden and puffy. Let them rest for 5 minutes and serve with creamy mashed potato or your child's favourite veggies.