Mini fish fillets and baby potatoes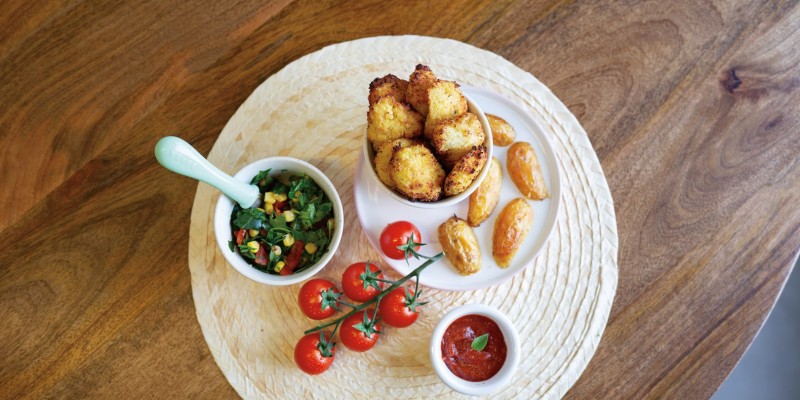 Category:
For Kids
|
Oven Dishes
|
With Seafood
500g cod or lemon sole, cut in small fillets
1 cup cauliflower, cut in florets
½ cup parmesan, grated
½ cup breadcrumbs (preferably panko)
1 tsp garlic powder
1 tsp Mitsides Vegetable Powder
2 eggs, beaten
fresh pepper
For the potatoes:
10 baby potatoes, cut in half lengthwise
2 Tbsp unsalted butter
¼ cup vegetable broth
3 Tbsp sunflower oil
5-6 Tbsp water
Freshly ground pepper
Start by making the potatoes. Preheat the oven at 180°C. Cut the butter in small cubes and spread on a small oven proof dish. Place the potatoes (cut side down), add the vegetable broth, drizzle with the sunflower oil and water and season with pepper. Bake in the oven for about 45 minutes until skin is crispy.
In the meantime, blend the breadcrumbs in a food processor to make them finer (I use panko breadcrumbs for a more crispy result). Add the cauliflower florets, parmesan, garlic powder, vegetable powder and pepper and pulse together until you have a very fine crumble.
Place the crumble in a large bowl. Place the beaten eggs in another bowl. Take a fish fillet, dip it in the egg and then in the cauliflower crumble. Make sure you coat all sides well and place the fillets on an oven tray lined with baking paper.
Bake in the oven for about 30 minutes until golden brown.
Note: You will need two oven trays to fit the entire quantity. If you don't want to cook them all you can freeze some and use them within 2 months.