One-Pot Creamy French Onion Farfalle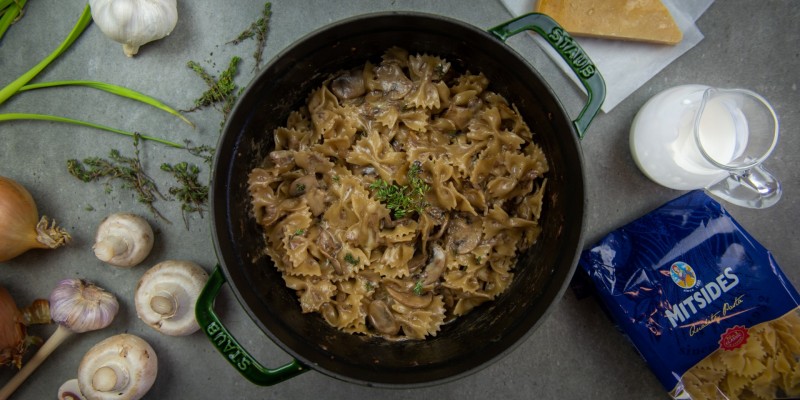 1 pack Mitsides Farfalle 500g
4 tablespoons butter
2-3 sweet onions, chopped
1 tablespoon brown sugar
1 tablespoon soy sauce
1 cup red wine
250g  button mushrooms, sliced
2 cloves garlic, minced or grated
3 cups boiling water
1 cube Mitsides chicken bouillon
2-3 fresh thyme sprigs
1 ¼ cups heavy cream
1 pinch of cayenne pepper
200g gruyere cheese, coarsley grated
salt & pepper
Heat a large saucepan over medium-high heat and add the butter. Add the onions and brown sugar and cook about 10 minutes, stirring frequently, until softened. Slowly add the soy sauce and the wine. Let it simmer until the wine has evaporated or the onions are caramelized to your liking. Make sure the wine has evaporated.
Add the mushrooms and garlic to the caramelized onions, season with salt and pepper, cook another 3-4 minutes or until the mushrooms are soft.
Pour in the boiling water and bouillon cube and bring to a boil. Add the pasta and thyme, cook, stirring often until most of the liquid has been absorbed. If you feel your pasta needs more water to continue cooking, add around ½ cup.
Stir in the cream and a pinch of cayenne pepper. Stir in the cheese. Cook for 2 minutes and remove from the heat.
Serve warm, topping with fresh thyme and parsley if desired.