One pot orzo with chicken and spinach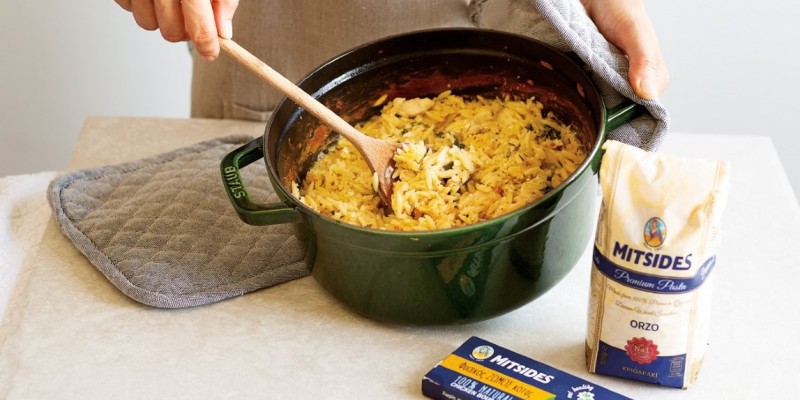 Category:
For Kids
|
Oven Dishes
|
With Meat & Poultry
250g Mitsides Orzo
750ml boiling water
1 cube Mitsides Bouillon for Pasta
1 chicken breast, cut in small cubes
1 onion, chopped
1 garlic clove, minced
½ tsp dried oregano
1 Tbsp fresh basil, chopped
2 cups baby spinach, roughly chopped
1 cup cheddar cheese, grated
½ cup plain yogurt
½ cup breadcrumbs
½ tsp Mitsides Vegetable Powder
1 Tbsp olive oil
salt and pepper
Preheat the oven grill to 220°C. In a large saucepan, heat the olive oil and add the chicken. Stir occasionally until it turns golden on all sides. Add the onion and cook for 5 more minutes over medium heat. Add the garlic, herbs and orzo. Add the boiling water and bouillon cube. Simmer for 15 minutes on low heat until water has been absorbed and orzo is cooked. Add the spinach and cook for a while until wilted. Turn off the heat to let it cool for a few minutes and then add the yogurt and cheddar cheese, mixing thoroughly until the cheese has melted.
Transfer to a baking dish and sprinkle with the bread crumps on top. Place on the top rack of the oven and cook for 5-7 minutes until toasted on top.