Orzo with Pesto and Rocket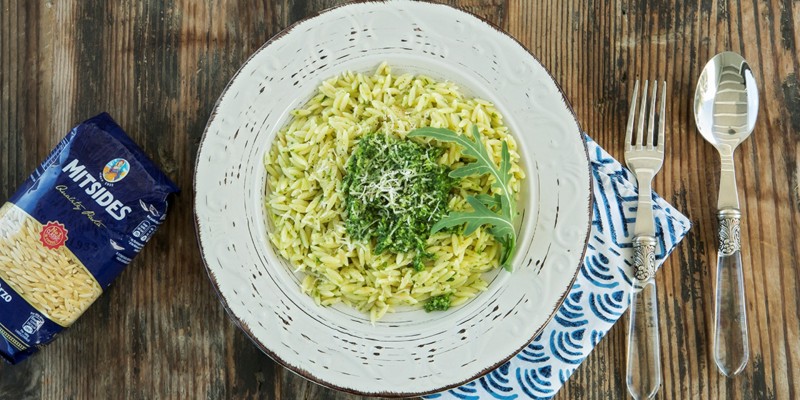 1 pack Mitsides Orzo
5-6 cups chicken/vegetable stock 
½ cup white wine
For the pesto:
4 cups rocket leaves (Cypriot arugula)
1 cup. olive oil
¼ cup pine nuts, toasted
2 tablespoons lemon juice
1 cup grated parmesan cheese
½ teaspoon garlic powder
salt and pepper
In a large deep pan heat a little olive oil and add the orzo.  After, 2-3 minutes, add the white wine and when it evaporates add the stock, salt and pepper and let the orzo cook, adding extra water if needed.
Meanwhile, in a food processor put all ingredients for the pesto and mix until the pesto is created. Add salt, pepper or lemon, according to taste.
When the pasta is ready, add 4-5 tablespoons of the pesto and mix well.
Serve, adding 1 to 2 tablespoons pesto over each dish. Sprinkle with grated parmesan and fresh ground pepper.