Orzo with roasted vegetables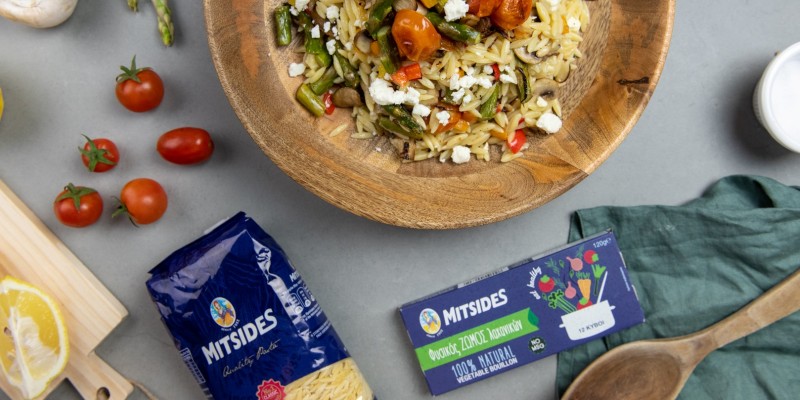 Category:
For Kids
|
Oven Dishes
1 pack Mitsides Οrzo (500g)
1200ml water
2 cubes Mitsides Vegetable Bouillon
1 cup mushrooms, sliced
4-5 asparagus stalks, cut in 2 cm pieces, hard ends discarded
300g cherry tomatoes, cut in half
1 Tbsp garlic, minced
1 cup mixed bell peppers, diced
2 spring onions, chopped
5 Tbsp olive oil
1 tsp Mitsides Vegetable Powder
½ cup feta, crumbled
¼ cup pine nuts, roasted
Fresh basil and parsley for garnishing
Salt and pepper 
For the dressing:
 ¼ cup olive oil
3 Tbsp lemon juice
salt and pepper
Preheat the oven to 200°C. Place all vegetables on a baking tray lined with parchment paper. Add olive oil, vegetable powder, salt and pepper and mix well. Spread the veggies on one layer and bake for 30 minutes until slightly browned. You might need two trays to have them on one layer.
In the meantime, in a large saucepan bring the water to a boil and add the vegetable cubes. When dissolved, add the orzo and boil for about 15 minutes until orzo is cooked and water has been absorbed.
In a small bowl add all the dressing ingredients together and mix.
Once the orzo and vegetables are done, add the vegetables to the saucepan with the orzo. Add the feta cheese, pine nuts and dressing and mix. Garnish with basil and parsley and serve.