Oven baked bulgur with aubergines and tomatoes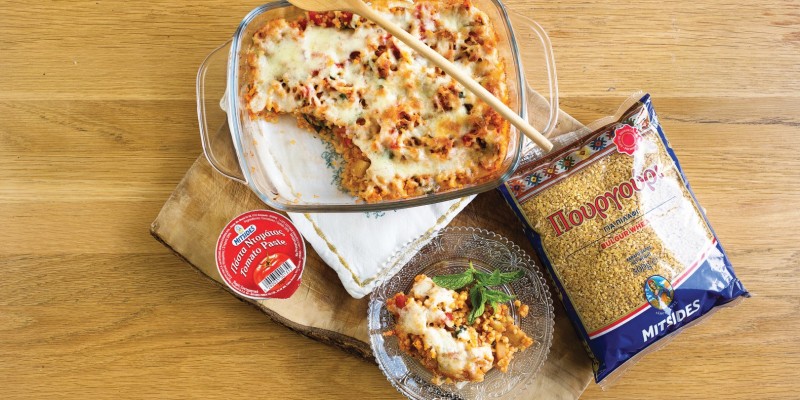 Category:
For Kids
|
Oven Dishes
|
Vegetarian
2 medium sized aubergines
3-4 ripe tomatoes, chopped (or 1 can Mitsides chopped tomatoes 400g)
1 cup Mitsides bulgur (blue pack)
2 ½ cups vegetable broth
1 small onion, finely chopped
1 bunch of spinach, chopped
2 Tbsp leek, chopped
1 tsp dry mint
1 tsp dry oregano
1 tsp organic low-salt vegetable powder
3 Tbsp extra virgin olive oil
2 Tbsp mozzarella, grated
Preheat the oven to 180⁰C. Peel strips of the aubergine skin lengthwise leaving the aubergines with a striped effect. Cut them in 2cm cubes and place in a bowl of water with a bit of salt for 15 minutes. This will help get rid of the aubergine's bitter taste. Drain and set aside.
In a large skillet, heat 3-4 tablespoons of water. Add the onion and leeks and sauté for a few minutes until softened. Add the aubergines and cook for another 3 minutes.
In a large bowl, add the olive oil, vegetable broth, vegetable powder, tomatoes, bulgur, aubergines and onions, mint, oregano and spinach. Mix well and pour in a large ovenproof dish. Sprinkle with mozzarella and cook in the oven for about 35 minutes. You can add more water if you feel that the bulgur needs more. When ready, let it cool for 15 minutes before serving.