Pasta Caesar salad with prawns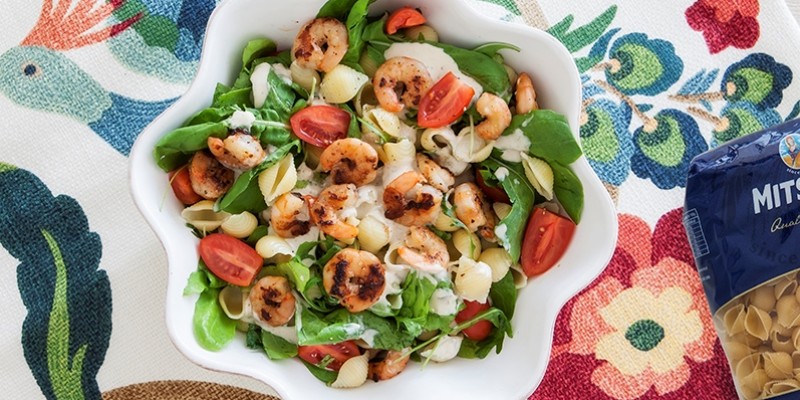 Category:
Salads
|
With Seafood
For the salad:
3 cups. Cypriot Rocket leaves , roughly chopped
2 cups  wild rocket, roughly chopped
1 packet of pasta shells Mitsides
1 handful of cherry tomatoes, divided in two
500g. prawns, peeled
Salt and Pepper
For the Caesar sauce:
½ cup. Yogurt
3 cloves garlic, crushed
2 anchovies
1 ½ tablespoon mayonnaise
1 ½ tablespoon olive oil
3 tablespoons lemon juice
1 ½ teaspoon Dijon mustard
1 tablespoon Worcestershire Sauce
little paprika, salt and pepper
In a food processor (blender) blend anchovies with garlic. Add the mayonnaise, olive oil, lemon juice, mustard, Worcestershire Sauce, salt and pepper and stir well. Finally, add the yogurt and mix on low speed until you have a smooth mixture. Keep the sauce in the refrigerator for about 30 minutes.
Meanwhile, in plenty of salted boiling water cook the pasta following package directions. When ready, drain and rinse with cold water to stop from cooking further and coat with a little olive oil.
In a small pan, heat a little olive oil and fry the shrimp, add salt, pepper and a little paprika. When the prawns are cooked and their liquid has evaporated, turn off the heat and leave to cool slightly.
To make the salad, put all rocket leaves in a large bowl, add the cooked spaghetti, cherry tomatoes, prawns and Caesar sauce. Stir well to coat the salad with the sauce and serve!