Pasticcio with hidden veggies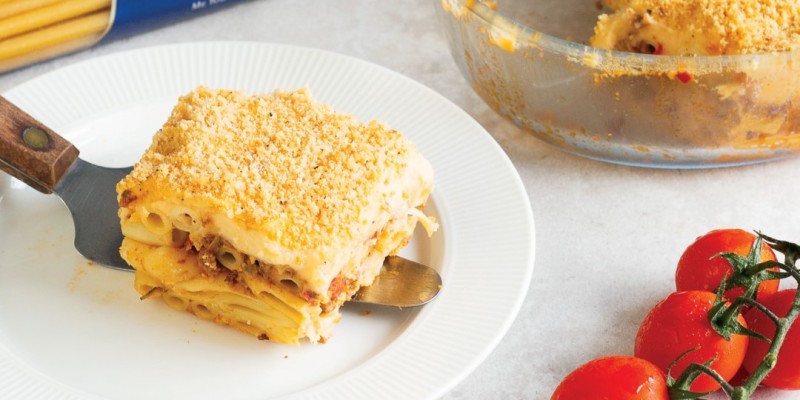 Category:
For Kids
|
Oven Dishes
|
With Meat & Poultry
1 pack Mitsides Mezzani pasta
2 cubes Mitsides Bouillon for pasta
1 cup halloumi cheese, grated
½ cup cheddar cheese, grated
1 tsp dry mint
1 tsp Mitsides Vegetable Powder
5-6 Tbsp breadcrumbs
Olive oil
For the Bolognese minced meat mixture:
500g ground beef or chicken
1 carrot, grated
1 onion, grated
1 zucchini, grated and liquids squeezed out
1 red bell pepper, chopped
½ can Mitsides Chopped Tomatoes (200g)
1 garlic clove, minced
salt and pepper
For the potato "béchamel":
6 medium sized potatoes, peeled and cut in cubes
1 large sweet potato, peeled and cut in cubes
½ cup cannellini beans, cooked
½ cup milk
1 Tbsp butter
1 tsp grated nutmeg
1 tsp Mitsides vegetable powder
1 cup cheddar cheese, grated
Preheat the oven to 180°C.
 
In a pan of boiling water dissolve the bouillon cubes. Add the pasta and cook following pack instructions. Drain, mix with some olive oil, ½ cup grated halloumi, cheddar cheese, the vegetable powder and mint and set aside.
To prepare the meat layer, heat some olive oil in a medium sized pan and fry the onion. Add the carrot, zucchini, red pepper and garlic. Add the ground meat and cook until browned. Add the chopped tomatoes, salt and pepper and cook on low heat for 15-20 minutes.
 
To prepare the potato "béchamel", boil the potatoes and sweet potatoes and mash them. Add all remaining ingredients and mash well until you have a creamy and smooth "béchamel".
 
To assemble, sprinkle 2-3 tablespoons breadcrumbs on the base of a large oven-proof dish. Add a layer of half the pasta. Spread the minced meat, then the remaining pasta and the potato béchamel. Sprinkle with remaining breadcrumbs and halloumi. Bake in the oven for 40 minutes until surface becomes golden brown. You can prepare this from the previous evening, keep in the fridge and bake the next day.