Peach and Apricot galette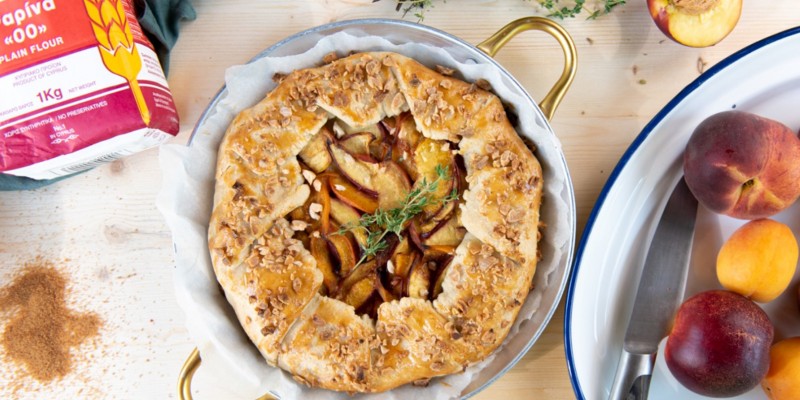 Category:
Oven Dishes
|
Pastries & Sweets
For the dough:
1½ cups Mitsides Plain Flour
½ tsp salt
150g cold unsalted butter, cut into small cubes
4–5 Tbsp ice-cold water
1 Tbsp coconut sugar
For the Filling:
2 medium-sized peaches, sliced
2 medium-sized nectarines, sliced
2 medium-sized apricots, sliced
2 Tbsp coconut sugar
½ cup almond flour
1 egg yolk, whisked
½ cup crushed almonds
1 Tbsp maple syrup
1 tsp vanilla extract
To make the galette dough: Place the flour, coconut sugar and salt in the bowl of a food processor. Pulse to mix. Then add the butter and pulse again until mixture resembles small crumps. Turn the mixer on again and add in the water. At this point, a ball should be forming. Transfer the dough onto a lightly floured surface and form a ball, wrap with cling film and refrigerate for at least 1 hour.
 
To make the filling: Place the peaches, nectarines and apricots in a bowl. Add the maple syrup, vanilla and coconut sugar and mix.
 
Preheat the oven to 180° C. Place a sheet of parchment paper on your oven's baking tray.
On a lightly floured surface, roll out the dough into a large 25cm circle. Transfer onto the baking tray.  Sprinkle the dough evenly with the almond flour, leaving a 4cm border on the sides. Then spread the fruit on top, again leaving a 4cm border around the edges. Roll in the sides of the dough, overlapping as you go around pleating the dough. Brush the crust with the egg yolk and sprinkle with the crushed the almonds, lightly pressing to make sure they stick.
 
Bake for 50-55 minutes until the crust turns golden brown. Transfer the galette onto a wire rack to cool slightly and serve while still warm, with vanilla ice cream!