Penne with red pepper pesto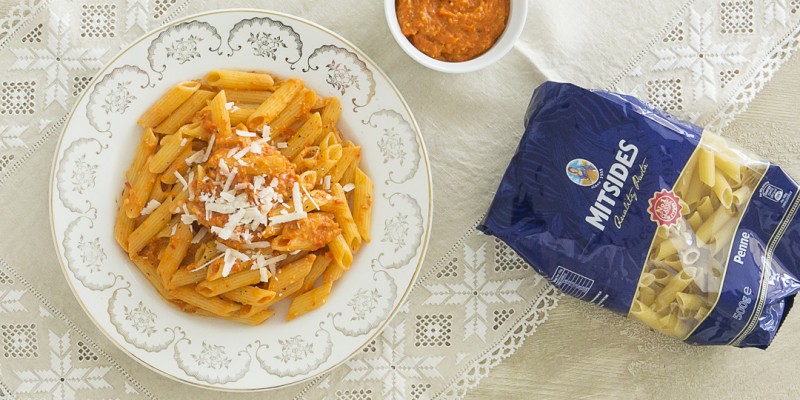 1 pack Mitsides penne 500g
2 large red peppers
5-6 cherry tomatoes
2 cloves of garlic
¼ cup olive oil
½ cup Parmesan
1 tablespoon basil leaves, finely chopped
2 tablespoons pine nuts, roasted
2 spoons of almonds, roasted
salt and pepper
Preheat the oven to 180 ° C. Cut the peppers in the middle and remove the seeds. Place peppers, cherry tomatoes and garlic (skin on) on a baking sheet. Drizzle with olive oil, add salt and pepper and bake for about 30 minutes. When ready, set aside to cool.
Peel the garlic, add it to a food processor together with the peppers, cherry tomatoes, basil, pine nuts and almonds and pulse well. Add the olive oil, parmesan cheese, some salt and pepper and gently mix.
In plenty of salted boiling water, cook the pasta following pack instructions. When ready, strain and mix with the sauce. Serve with grated parmesan cheese.