Popcorn chicken with sweet potato mash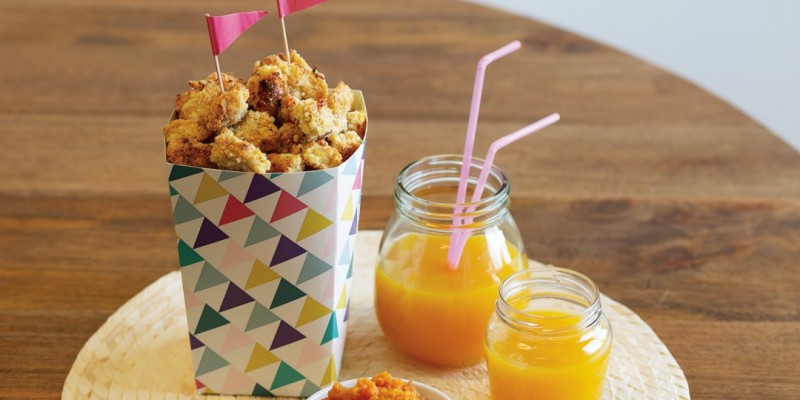 Category:
For Kids
|
Oven Dishes
|
With Meat & Poultry
2 chicken breasts, cut in small cubes
1 small onion, thinly sliced
1 large tomato, chopped
1 Tbsp olive oil
2 Tbsp lemon juice
½ tsp garlic powder
2 eggs, beaten
1 cup dry anari cheese, grated
1 cup breadcrumbs
1 tsp Mitsides Vegetable Powder
For the mash:
2 large sweet potatoes, cubed
1 cup white beans, cooked
1 tsp garlic, minced
1 Tbsp lemon juice,
Sea salt and pepper
Marinate the chicken cubes by adding them in a food bag together with the onion, tomato, olive oil, garlic powder and lemon juice. Make sure the chicken cubes are well covered with the sauce and let them marinate for about 30 minutes.
Preheat the oven to 180°C.
Place the beaten eggs in a bowl. In a deep plate mix the anari with the breadcrumbs and vegetable powder. Take a piece of chicken, dip it in the egg and then roll in the anari mixture so that all sides are coated. Place the chicken in a medium sized ovenproof oven dish. Repeat until all chicken cubes are coated and placed in the oven dish. Cook in the oven for about 40 minutes.
 
In the meantime, in a medium sized saucepan with boiling water, add the sweet potatoes and garlic. Simmer for about 10 minutes until the sweet potatoes have softened completely. Drain and place in a food processor. Also add the beans, lemon juice, salt and pepper and pulse until you get a nice mash.