Quinoa with vegetables and tahini sauce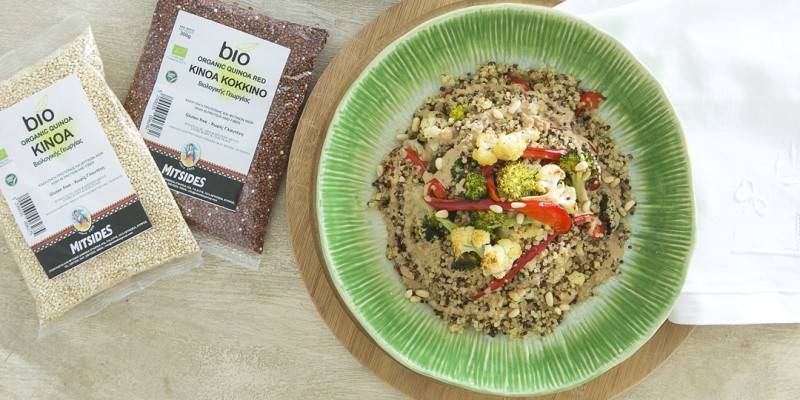 1½ cup Mitsides white Quinoa
½ cup Mitsides red Quinoa
4 cups water
1 cauliflower head
1 broccoli head
2 sweet red peppers, cut into strips
2 cloves garlic
2 tablespoons pine nuts
Olive oil
salt and pepper
For the tahini sauce:
3 tablespoons of good quality tahini
6 tablespoons of water
1 tablespoon lemon juice
1 tablespoon soy sauce
1 tablespoon carob honey
Salt and pepper
Preheat the oven to 180 ° C. Cut cauliflower and broccoli into small florets. In a large baking pan lined with parchment paper spread the broccoli, cauliflower, peppers and garlic. Drizzle with olive oil, add salt and pepper. Stir well and spread vegetables on the baking dish. Bake in the middle of the oven for about 30 minutes.
In the meantime, put the two types of quinoa in a colander and rinse well with water. Put the 4 cups of water in a saucepan and when it has boiled, add the quinoa with some salt. Cook for about 10 minutes until all water is absorbed. Cover the pot with a towel and set aside.
To make the sauce, put all the ingredients in a mixer and blend for at least 1 minute. Try taste and if necessary adjust the quantities of materials.
When the vegetables are cooked, remove the garlic and place them in the pot with the quinoa and stir. Serve in deep dishes and drizzle with the tahini sauce and pine nuts.