Rigatoni with artichoke and asparagus pesto sauce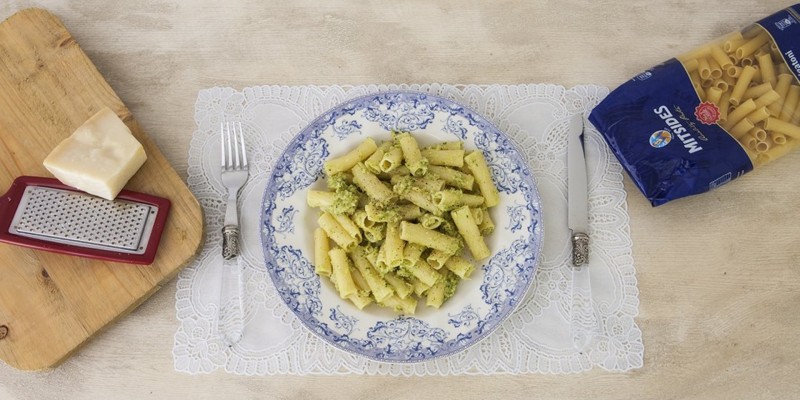 I came up with this pesto sauce completely by chance, as I was cleaning my kitchen cupboards and freezer. As the blender was on, I kept adding small amounts of various leftover ingredients and the result was a very nice and original pesto! I used it on pasta but you could also use it as a filling for jacket potatoes.
 
1 pack Mitsides Rigatoni (500g)
6-7 artichokes, peeled
5-6 asparagus
1 handful rocket
½ cup olive oil
4 tablespoons pine nuts
4 tablespoons hazelnuts
4 tablespoons Brazil nuts
½ cup Parmesan cheese, cut into small pieces
2 tablespoons leek, finely chopped
juice and zest of 1 lemon
6 tablespoons water
salt and pepper
1. Gently heat a small pan and add the nuts and let them roast. Once they get a little color remove from the heat and let them cool.
2. Meanwhile, in a large saucepan with plenty of boiling salted water cook the pasta, following the packet instructions.
3. Place all the remaining ingredients, including the roasted nuts, in a food processor and mix on high speed to create the pesto sauce. If you prefer the sauce to be more liquid you add some olive oil or water.
4. Once the pasta is cooked, drain and mix with the sauce. Serve with a little parmesan and pepper.