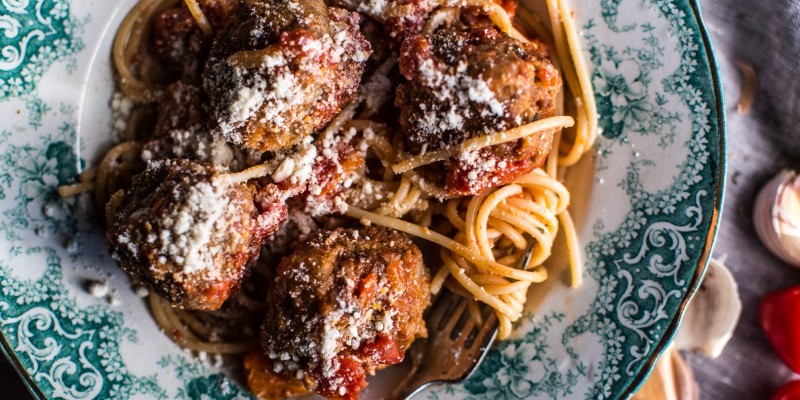 FOR THE MEATBALLS
3/4 cup breadcrumbs (I used "Paximathi", which is dried Cypriot "Arkatena" bread)
1/4 cup milk
250g Italian sausage (or another type of pork sausage) removed from casing
400g beef
1/4 cup fresh "Anari" cheese (not salted, not sweetened) or ricotta cheese
1/4 Parmesan cheese
1/2 diced large onion
1/4 cup chopped parsley
1 tbs finely diced garlic
1 large egg
pinch of nutmeg and clove powder
salt and pepper to taste
flour for dusting and vegetable oil for frying
 
FOR THE SAUCE & SPAGHETTI
1 pack Mitsides Spaghetti (500g)
1/2 diced large onion
2 cans Mitsides Chopped Tomatoes (400g each)
1 tbs finely diced garlic
1/4 cup white wine
1 tbs sugar
2 tbs Mitsides Tomato Paste
1 tbs olive oil
1. Add all of the meatball ingredients in a large bowl and mix together well with your hands and form large meatballs (should make about 20 meatballs). Lightly dust the meatballs in flour so that they fry better. Heat vegetable oil on the stove (about 1cm deep) in a large frying pan. Once hot, add meatballs and brown on all sides. Remove and place on kitchen towel on a plate to drain the oil.
2. Drain the oil from the frying pan. Add olive oil, tomato paste, onions and garlic and lightly fry for about 1 minute. Add the white wine and let evaporate. Add the chopped tomatoes and sugar and let simmer over low to medium heat for about ten minutes until the sauce thickens. Add the meatballs and cook for another ten minutes, until the meatballs are cooked on the inside.
3. Cook the Mitsides spaghetti in boiling salted water until al dente and drain. Add the spaghetti to the sauce and stir around well. Serve with grated Parmesan cheese on top.