Spaghetti with prawns and fennel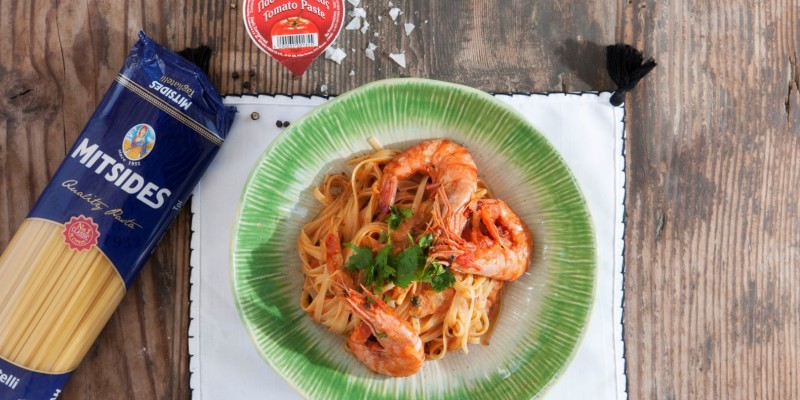 1 packet Mitsides tagliatelli 500g
15-20 large prawns (with head)
1 fennel, grated into thin slices
15-20 cherry tomatoes, halved
½ glass of ouzo
1 teaspoon lemon zest
Salt & Pepper
olive oil
2 tablespoons butter
2 tablespoons yogurt (optional)
parsley for garnish
1. In a large and deep pan (I use a wok), heat the olive oil and butter and add the fennel. When it starts to brown slightly add the tomatoes, salt and pepper and lower the heat to medium. Cover the pan and let the tomatoes cook for a while.
2. Meanwhile, cook the pasta following package directions. Keep some water from the pasta to add to the sauce later.
3. When the tomatoes are cooked, add the prawns and when they turn pink, pour in the ouzo and light it with a match. Allow the fire to burn itself out or until the ouzo evaporates.
4. Add the lemon zest, salt and pepper.
5. When the prawns are cooked, add the yogurt (if desired) and then add the cooked pasta and mix gently (careful not to break the prawns).
6. Serve on a platter and garnish with parsley.
Note: If you want, you can clean the prawns at the beginning and keep the head, shell etc and make a broth in which you can cook the pasta. This adds flavor to the pasta.