Spicy pasta baked with tomatoes, eggplant and cheese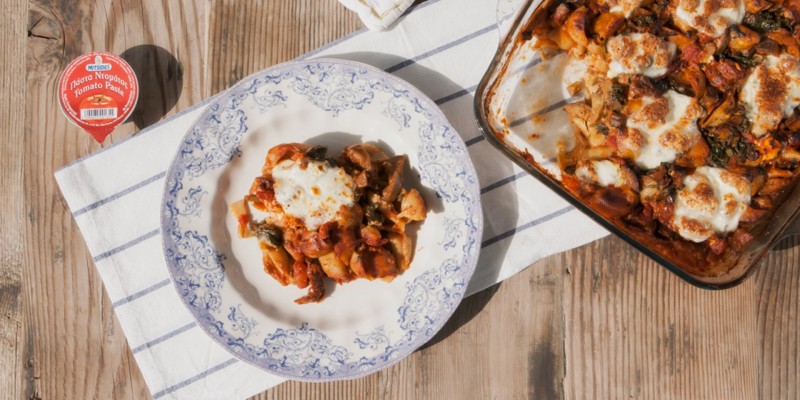 Category:
Oven Dishes
|
Vegetarian
1 pack Mitsides Conchiglie grandi (500g)
500ml vegetable or chicken broth
2 large eggplants, cut into 1cm cubes
250g sundried tomatoes, cut into strips
1 tin Mitsides chopped tomatoes (400g)
1 Mitsides tomato paste (70gr)
1 bunch fresh spinach
3 tablespoons fresh basil, chopped
1 tablespoon dried oregano
1 tablespoon chili paste or chili flakes
2 cloves garlic, crushed
100g goat cheese, sliced
100g mozzarella, sliced
100g parmesan, grated
Olive oil
Salt and pepper
1. Preheat oven to 180⁰C.
2. In a large pot with plenty of salted boiling water, cook the pasta for 5 minutes and strain.
Meanwhile, in a large bowl put the broth, the chopped tomatoes, tomato paste, eggplant, sun-dried tomatoes, spinach, garlic, basil, oregano and chilli and stir.
2. Add the pasta to the mixture, stir and transfer to a large baking dish. Bake for about 15 minutes.
3. Remove the baking dish from the oven, add the goat cheese and the Parmesan and stir. Lay the mozzarella slices on top and put the baking dish back in the oven for another 15 minutes until the cheese has melted and the surface is golden brown. 
4. Serve in deep dishes with grated parmesan on top!