Tagliatelle with Parma Ham and Asparagus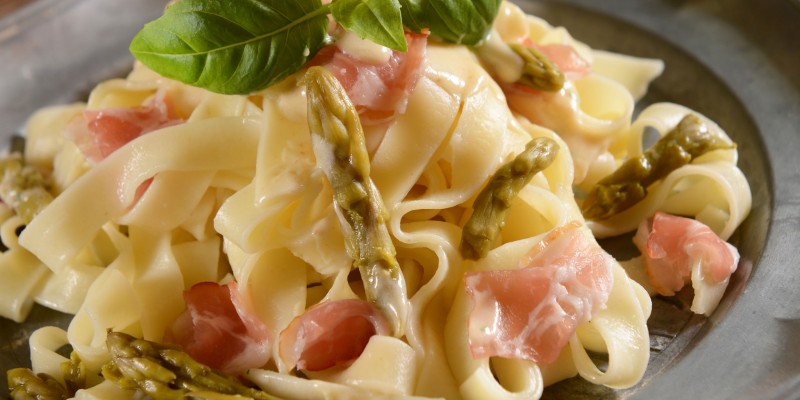 Category:
With Meat & Poultry
1 packet MITSIDES plain Tagliatelle
2 tablespoons butter (25g)
1 tablespoon olive oil
225g fresh asparagus tips (cut in 1 inch lengths)
1 garlic clove, crushed
1 spring onion, finely chopped
115g Parma ham, cut in strips
2 tablespoons chopped fresh sage
2/3 cup fresh cream (150ml)
1 cup grated Cheddar or Gloucester cheese
1 cup grated Gruyère or Kefalotyri cheese
salt, pepper
1. Add pasta to a large saucepan of plenty of salted, boiling water and boil, uncovered, until al-dente.
2. Meanwhile, melt the butter and oil in a pan and gently fry the asparagus tips for about 5 minutes, stirring occasionally, until almost tender.
3. Add garlic and Parma ham and fry for 2 minutes. Stir in chopped sage and fry for another minute.
4. Add the cream and bring to the boil. Add the grated cheeses, season and gently simmer, stirring occasionally, until melted.
5. Drain the cooked pasta, mix well with the sauce and serve.