Tortellini Carbonara with zucchini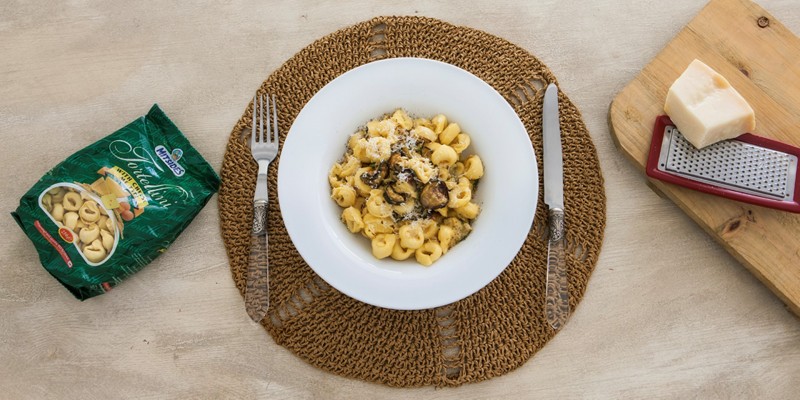 Who said vegetarians cannot enjoy a delicious carbonara? Try this recipe and you will not think of using bacon anymore!
1 pack Mitsides tortellini with cheese (250g)
2 zucchini
1 whole egg and 1 egg yolk
1 cup parmesan cheese, grated
½ cup sunflower oil
pepper
1. Cut the zucchini into thin slices, sprinkle with salt and let it sweat out its water. Dry it well with a  paper towel to make sure it's completely dry.
2. In a small bowl beat the eggs and add half the grated Parmesan and pepper.
3. In a large skillet, heat the sunflower oil and gently fry the zucchini slices. Do not fry all the slices at the same time and do not stir often so as not to break them. Keep transferring the fried zucchini slices to a large dish lined with kitchen paper to absorb most of the oil and continue until all slices are cooked. Discard most of the remaining oil, leaning about ⅓ in the pan.
4. In a saucepan with plenty of salted boiling water cook the tortellini as per the package instructions.
5. Place the zucchini slices back in the pan, turn on the heat and when the tortellini are ready add them to the pan, saving ½ cup of their cooking water. Stir in the eggs and if necessary add some of the cooking water to the pan to create a creamy sauce.
6. Serve with the remaining grated Parmesan cheese and pepper.