Tortellini with Balsamic & Sun Dried Tomato Dressing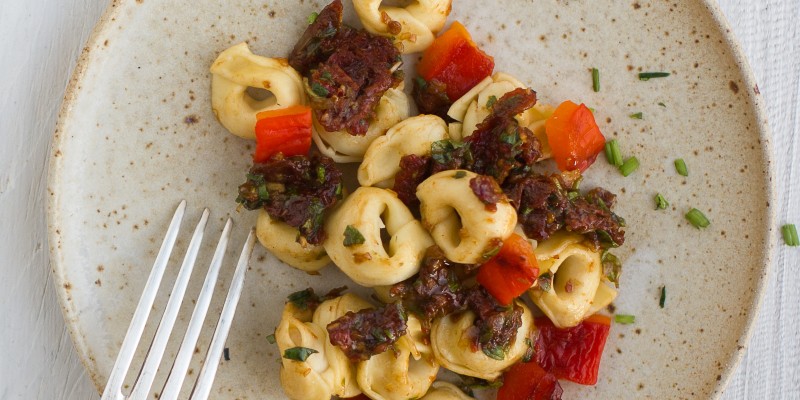 1 pack Mitsides Cheese Tortellini
1 large red bell pepper
2 spring onions (the white part only)
2 small garlic cloves
6 sun-dried tomatoes, in oil
¼ cup packed fresh basil
1 tbsp good quality balsamic vinegar
¼ cup olive oil
Salt & pepper to taste
Finely cut basil and freshly grated parmesan as garnish
1. Preheat the oven at 200°C.
2. Place the red pepper in a roasting pan in the oven. Turn the red pepper about every 10 minutes until it is wrinkled and charred black in parts. After about 20-25 minutes, remove it from the oven, place it in glass bowl and cover with plastic wrap for 5 to 10 minutes. Remove the red pepper from the bowl, peel off the charred black skin with a knife and dice into small pieces.
3. Place the spring onions, garlic cloves, sun-dried tomatoes and basil in a food processor and blend together. Add the vinegar and blend until a paste is formed. Then add the olive oil and blend until a dressing has formed. You can make the dressing as thick or thin as you wish, simply adjust the blending time. Add salt and pepper to taste.
4. Cook the tortellini in salted water until ready. Drain the pasta and then run cold water over the tortellini. Let the tortellini slightly cool. In a salad bowl add the sauce, diced red pepper and tortellini. Mix together. Garnish with fresh basil and freshly grated parmesan.