Tricolore Pasta with Avocado Cream, Roasted Cherry Tomatoes and Feta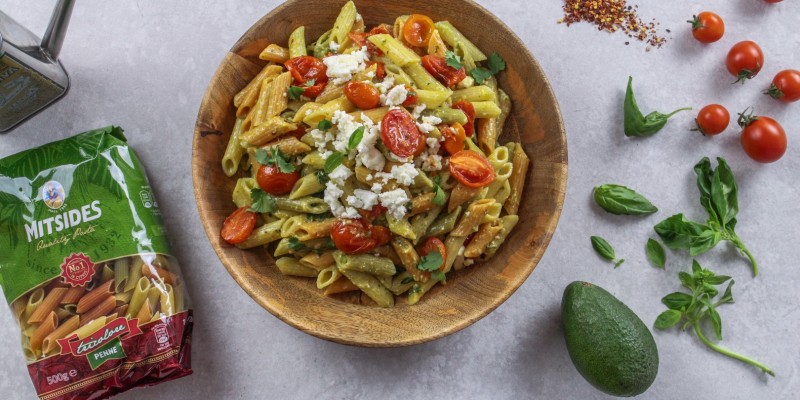 For the cherry tomatoes
3 cups cherry tomatoes (about 500 grams), halved
¼ cup olive oil
1 tsp dried oregano
Salt and freshly ground black pepper
 
For the avocado cream
1 ripe avocado
1 lemon, zest and juice
¼ cup basil leaves
¼ cup Parmesan cheese
¼ cup blanched almonds
¼ cup olive oil
 
For the pasta
500 grams pack "Mitsides" tricolore penne
½ cup feta cheese, crumbled
¼-½ tsp dried chili flakes
 
1. Preheat oven to 175 C. Put tomatoes in a baking tray, cut side up. Drizzle with the olive oil and sprinkle the dried oregano. Season with salt and freshly ground pepper. Roast in the oven for 35 minutes.
2. Make the avocado cream. Peel and core the avocado and put flesh in the bowl of a food processor. Add the remaining ingredients for the cream and blend until smooth and cream like.
3. Cook the pasta in plenty of salted water until al-dente (11 minutes). Drain but keep some of the water.
4. Mix the cooked pasta with the avocado cream. Add the roasted tomatoes and whatever juices from the baking tray. Mix again.
5. Add half the feta and half of the chili flakes. Mix again and serve in a large bowl. Garnish with the remaining feta and chili flakes. Serve at once.