Tsoureki – Greek Easter Bread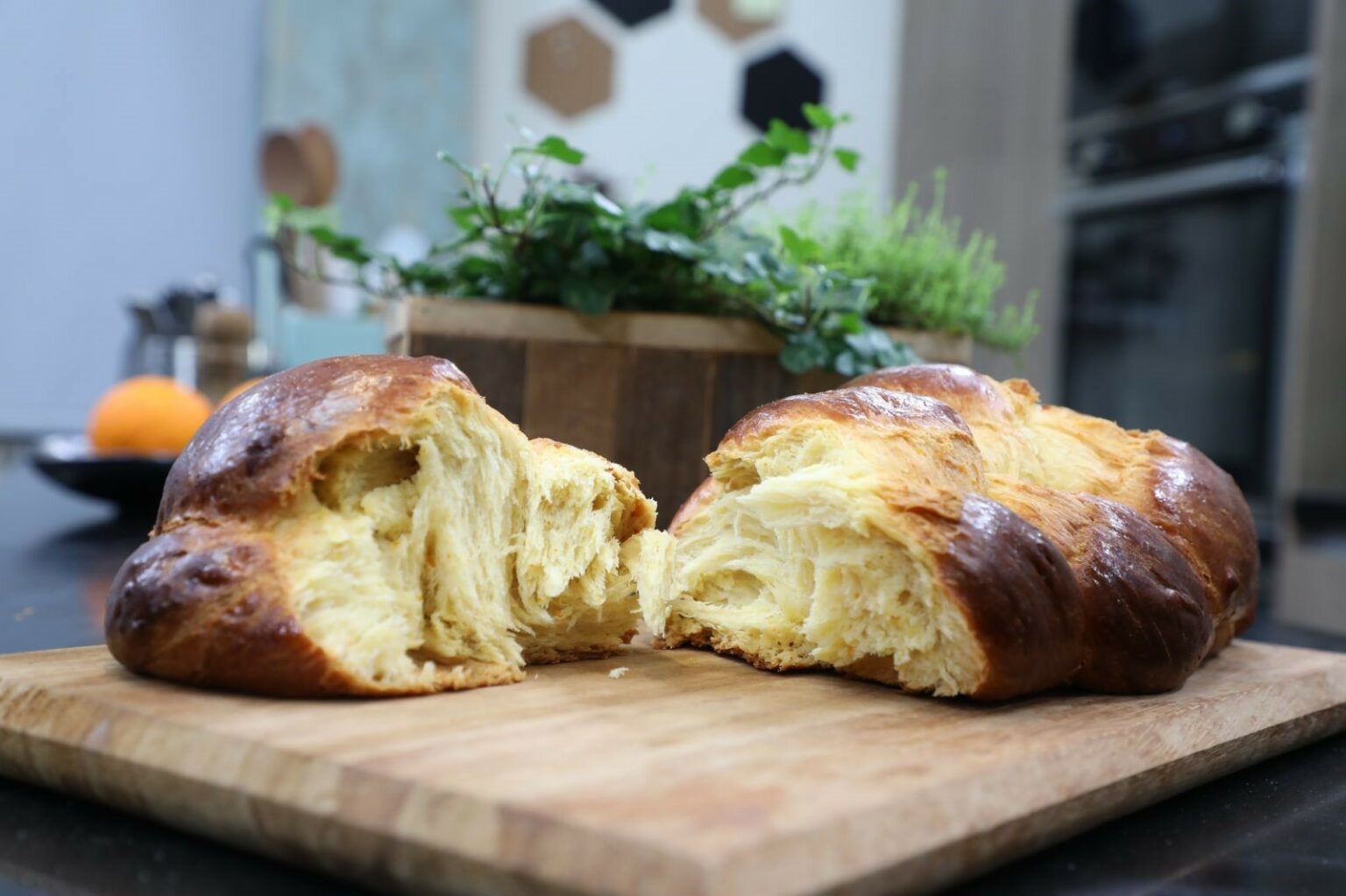 For the yeast batter:
80g water, lukewarm
11g dried active yeast
10g granulated sugar
40g Mitsides Village Flour (or Farina)
For the dough:
30g orange peel
130g granulated sugar
1 vanilla sachet
70g milk, lukewarm
2 large eggs, lightly beaten
460g Mitsides Village Flour (or Farina)
½ tsp mastic, crushed
½ tsp mahleb seeds, crushed
½ tsp salt
125g unsalted butter, at room temperature
For glazing:
1 egg
Sliced almonds (optional)
Prepare the yeast batter: In a stand mixer bowl, pour in the water and sprinkle over the yeast. Whisk to dissolve the yeast. Add the sugar and flour. Whisk again to combine. Cover with plastic wrap or a tea towel and let it stand for 10-15 minutes. During this time the mixture will be bubbling on the surface and will rise.
Prepare the dough: In a small blender, blend together the orange peel with the sugar. Place the bowl with the yeast batter on the stand mixer and adjust the dough hook. Add the orange and sugar mixture, vanilla, milk, eggs, , mastic, mahleb, salt and flour and knead at medium-low speed for 10 minutes. Start adding the butter piece by piece. Knead 10-15 minutes more. Check the dough by pulling it. It should be soft and stretchy.
Transfer the dough in a buttered bowl. Cover and let it rise at a warm place for 2-3 hours until double in size.
Form the tsoureki: Divide the risen dough in 3 or 4 equal pieces (depending on how you want to braid your tsoureki). Roll each piece into a log. Join the top tip of the logs and braid the tsoureki. Place it on a baking sheet lined with greaseproof paper or silicon mat. Cover with a tea towel for 30 minutes. In the meantime, preheat the oven to 160° C (fan).
Brush the entire surface of the tsoureki with beaten egg. Sprinkle with sliced almonds if you like. Transfer to the oven and bake for 40 minutes. Once it cools you can wrap it tightly in cling film and keep it at room temperature for 4 days.