Vegan spaghetti Bolognese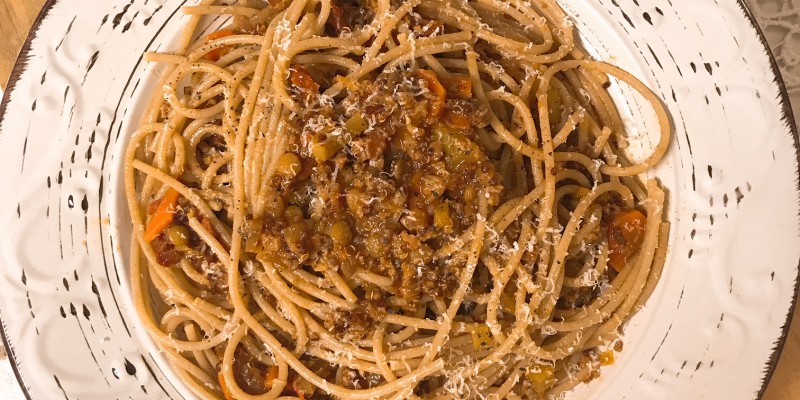 1 pack Mitsides spaghetti 500g
1/3 cup Mitsides red quinoa
1/3 cup lentils
1/3 organic soya mince (soaked in water)
1 red onion, chopped
1 garlic clove, chopped
3 Tbsp leeks, chopped
1 carrot, halved and sliced
1 yellow pepper, finely chopped
5-6 sundried tomatoes, chopped
1 pack Mitsides tomato passata 500g
1 Mitsides tomato paste 70g
10 fresh basil leaves
1 tsp smoked paprika
½ tsp cumin
½ tsp mustard powder
a pinch of chili flakes
½ cup red wine
3 Tbsp olive oil
1 tsp Vegetable bouillon powder
sea salt and pepper
Parmesan or nutritional yeast for serving 
In a medium size pot add room temperature water with salt and the vegetable powder. Add the quinoa, lentils and soya, bring the water to a boil and cook for about 10 minutes or until all ingredients have softened. Drain from the water and set aside.
In a deep frying skillet heat the olive oil and add the onion, garlic and leeks. Add the spices (smoked paprika, cumin, mustard powder and chili flakes). Add the wine and cook until the alcohol has evaporated. Add the carrots, yellow peppers and sundried tomatoes and cook for a few minutes. Add salt and pepper.
Add the quinoa mix and cook for a few minutes. Add the tomato passata, tomato paste, basil, salt and pepper turn heat down to medium and simmer for another 10 minutes. The sauce will thicken so you should reserve 1/2 cup of pasta water.
Meanwhile cook the pasta. In a large saucepan with plenty of salted boiling water cook the pasta following pack instructions. When cooked and al dente, drain the pasta.
Add the reserved pasta water to the Bolognese (if it is too thick) and mix with the pasta. Add parmesan cheese or nutritional yeast if you are vegan.