Vietnamese spring rolls with quinoa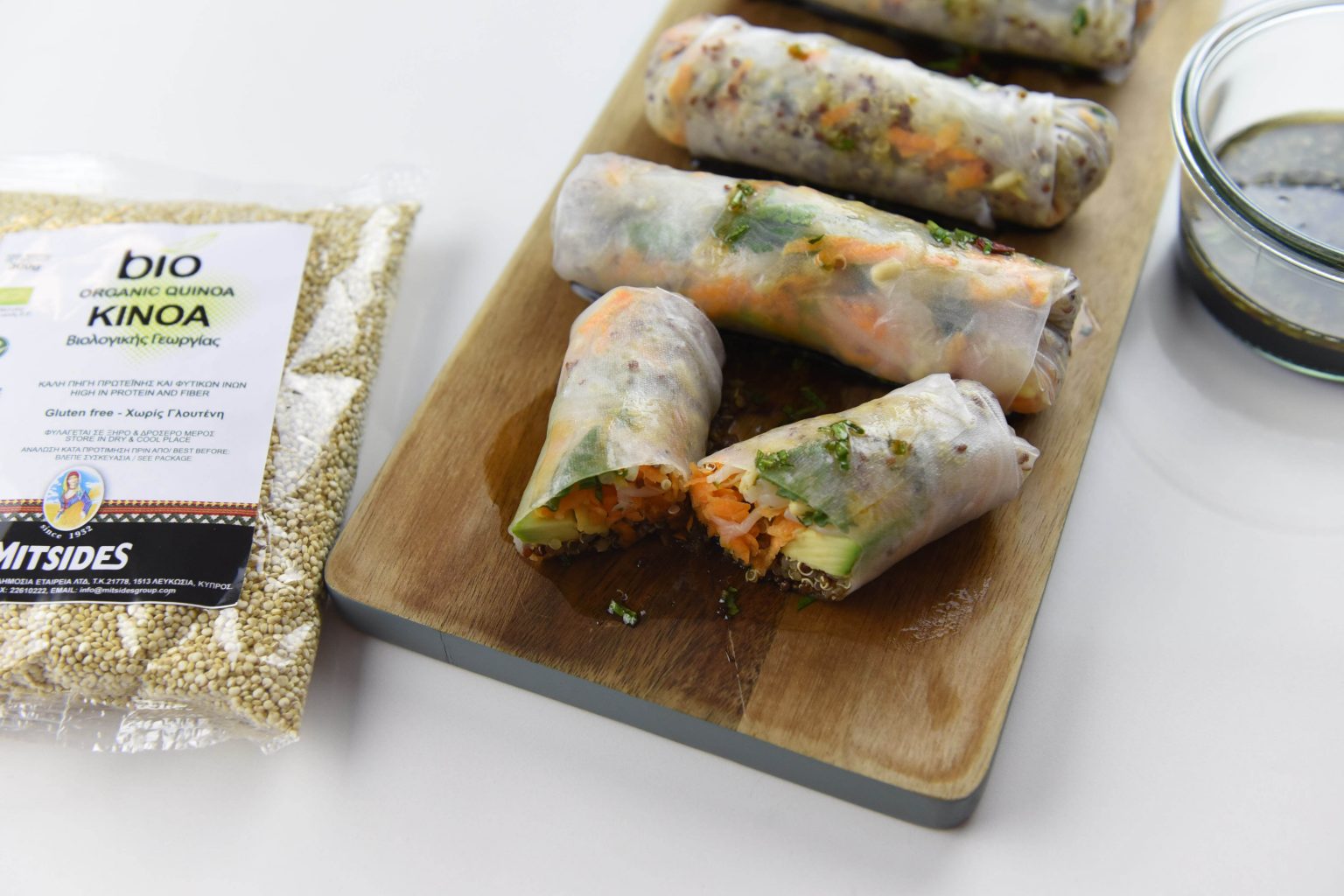 1/4 cup Mitsides white quinoa
1/4 cup Mitsides red quinoa
8 rice papers
1 Tbsp soy sauce
1 Tbsp of lemon juice
salt and pepper
1 avocado, cut into long strips
1 large carrot, grated
3 Tbsp mint leaves, finely chopped
3-4 Tbsp of coriander (whole leaves)
3-4 Tbsp of bean sprouts
For the sauce
½ cup soy sauce
2 tablespoons of sesame oil
½ tablespoon of fresh chili, finely chopped
1 teaspoon coriander, chopped
1 teaspoon maple syrup
Rinse the quinoa with water. In a saucepan, boil 1 cup of water and add lemon juice, soy sauce, salt and pepper. Add the quinoa and cook for about ten minutes until it absorbs all the water and doubles in size. Allow to cool completely.
In a shallow round bowl, add some boiling water. Next to the dish, lay a clean, damp towel. Soak one rice paper in the hot water and leave it for a few seconds to soften. Transfer it to the towel. Place a horizontal strip of quinoa in the middle (and a little upwards). Then add the avocado, carrot, mint and bean sprouts. Finally, add 3-4 leaves of coriander. Take the top of the rice paper with your hands and turn it down and cover the mixture. Wrap tightly downwards and fold in both side edges of the rice paper. Continue to roll down until you have a spring roll. Repeat for the rest. (For easy wrapping you can check out videos on youtube).
Prepare the sauce by stirring all ingredients in a bowl and serve along with the spring rolls.