Whole wheat pasta salad with marinated goat's cheese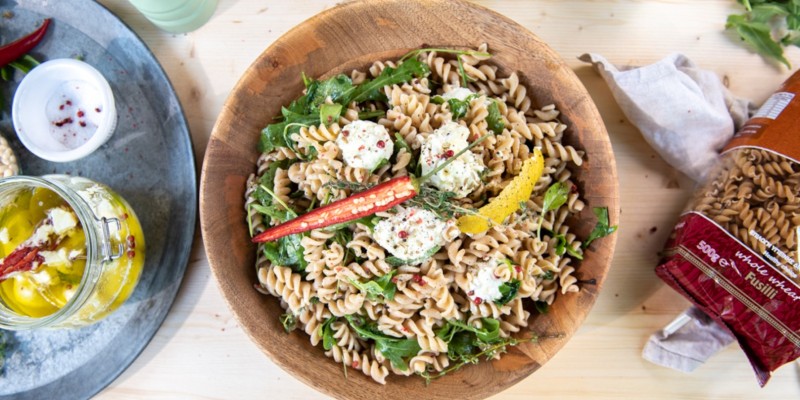 1 pack Mitsides Whole Wheat Fusilli
2 cubes Mitsides Bouillon for Pasta
1 cup rocket leaves
½ cup lemon juice
2 tbsp lemon zest
For the marinade:
350ml olive oil
200g soft goat's cheese
3 strips lemons zest
3 thyme springs
10 basil leaves
1 red chili, halved
1tsp fennel seeds, ground
Add the olive oil in the glass jar. Then oil your hands with a little olive oil and break the goat's cheese into pieces, roll into small balls and place them in the jar. Then place the lemon zest, thyme, basil, chili, and fennel seeds around the cheese and let it marinate in the fridge overnight.
In a large saucepan with plenty of boiling water add the bouillon cubes. Once dissolved, add the pasta and cook following pack instructions.
Once pasta is cooked, drain and rinse with cold water. Place the pasta in a salad bowl, add the rocket leaves, lemon juice and lemon zest and mix until combined. Add the marinated goat's cheese balls and add some of the marinade juices from the jar.