Whole wheat Spaghetti with prawns and coriander pesto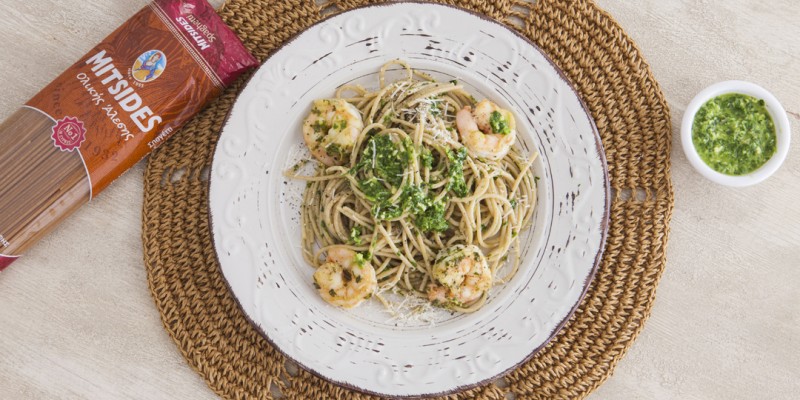 Category:
Vegetarian
|
With Seafood
1 Pack Mitsides whole wheat spaghetti 500g
1 cup large prawns, cleaned
To marinate the prawns:
1 teaspoon of garlic powder
½ teaspoon of chili powder
1 tablespoon of olive oil
1 tablespoons of lemon juice
1 tablespoon of lemon zest
pepper & salt
For the coriander pesto:
1 bunch of coriander
½ lemon juice
½ fl. parmesan grated
½ cup olive oil
½ teaspoon of chili flakes
1 clove of garlic
salt and pepper
In a large saucepan with plenty of boiling water, cook pasta following pack instructions. Meanwhile, add the prawns in a bowl and add all the marinade ingredients and let them marinate for a few minutes.
To make the pesto, put the garlic and coriander in a food processor and pulse for a few seconds at high speed. Add lemon juice, parmesan cheese, olive oil, chili, salt and pepper and gently pulse until a smooth mixture is created.
Heat a pan without olive oil and when it's hot enough add the shrimp. Cook for 1-2 minutes each side.
When the pasta is ready, drain and return to the pot. Put 3-4 tablespoons of pesto, shrimp and stir. Serve in dishes and add if you like you can add some Parmesan cheese.
The remaining pesto can be added to each plate or stored in a glass container in the refrigerator for 3 days.