Wholemeal pizza with hidden veggie sauce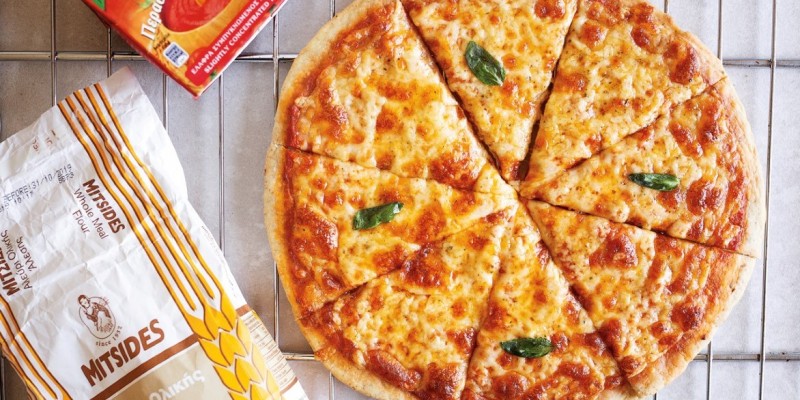 Category:
Breads & Doughs
|
For Kids
|
Oven Dishes
For the pizza:
1 cup Mitsides Plain Flour
1 cup Mitsides Wholemeal Flour
1 tsp Mitsides Vegetable Powder
½ cup water
4 Tbsp olive oil
2 cups cheese that melts, grated or cut in small pieces
 
For the sauce:
1 pack Mitsides Passata 500g
1 tsp Mitsides Tomato Paste
1 onion, chopped
1 zucchini, grated and drained
1 carrot, grated and drained
10 fresh  basil leaves
½ cup chickpeas, cooked and drained
salt and pepper
Preheat the oven to 200°C. Line a baking tray with parchment paper.
In a large mixing bowl combine the flours and vegetable powder. Add the water and olive oil and mix well. Form a ball and divide in two. Cover each ball with clingfilm and set aside to rest for 10-15 minutes.
 
Meanwhile, prepare the sauce. In a medium sized saucepan heat some olive oil and add the onions. When softened, add the zucchini, carrot and chickpeas. Add the passata, tomato paste, basil leaves, salt and pepper. Cover and cook on low heat for about 15 minutes, stirring occasionally. If your sauce seems too thick, you can add a bit of warm water. Blend together with a hand blender.
To make the pizza crust, place each one of the dough balls on a floured surface. Press down with your hands and using a rolling pin, roll into 25cm diameter circles about 5mm thick. Transfer carefully to the baking tray, spread some pizza sauce and sprinkle with the cheese. Add any toppings you like and cook in the oven for 20 minutes until the crust turns crispy and the cheese has melted and browned.