Yiayia Corina's legendary chicken souvlaki with potato wedges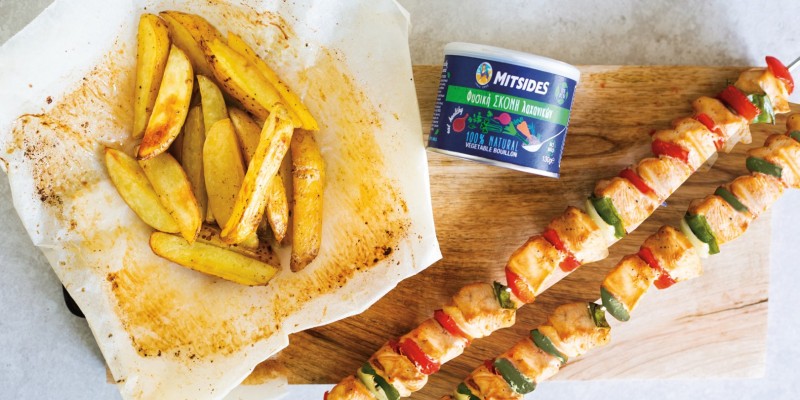 Category:
For Kids
|
Oven Dishes
|
With Meat & Poultry
For the chicken souvlaki
2 chicken breasts, cut in 3cm cubes
juice of ½ lemon
2 Tbsp soy sauce
2 tsp Carino chicken spice*
1 large tomato
1 onion
1 red pepper
2 long souvlaki skewers
*My grandma used to buy this spice blend from Greece, so I had to remake it at home: In a small bowl I mixed the following: ½ tsp freshly grounded pepper, 1 tsp paprika, ½ tsp brown sugar, ½ tsp onion powder.
 
For the potatoes
4 medium potatoes, skin on, cut in wedges
3 Tbsp olive oil
4 Tbsp hot water
½ tsp Mitsides Vegetable Powder
½ tsp dried oregano
pepper
Place the chicken pieces in a bowl and add the lemon juice, soy sauce and Carino spice. Mix well and let the chicken marinate for 30 mins.
 
Meanwhile, preheat the oven to 180°C. Prepare the vegetables that will go on the skewer. Cut and deseed the tomato, cut the bell pepper and onion in 3 cm squares. Take a skewer and slide in a piece of chicken, followed by a piece of tomato. Add another chicken piece followed by a piece of onion. Add a third chicken piece followed by a piece of red pepper. Repeat until you use all your ingredients.
 
To prepare the potatoes, mix the water with the vegetable powder. Place the potatoes in a bowl and add the rest of the ingredients. Mix well and place in a pyrex lined with parchment paper. Cover with foil, place at the bottom of the oven and start cooking.
 
Once 20 minutes have passed you will start to cook the chicken as well. Cover your oven's tray with aluminum foil and place it under your oven's grill rack, in the middle of the oven. Place the chicken skewers on the rack. Uncover the potatoes and continue cooking together with the chicken for another 20 minutes. The chicken has to be cooked for about 10 minutes each side, until all sides turn golden and the potatoes will be ready once they turn crispy and lightly coloured.