Mac n' cheese with zucchini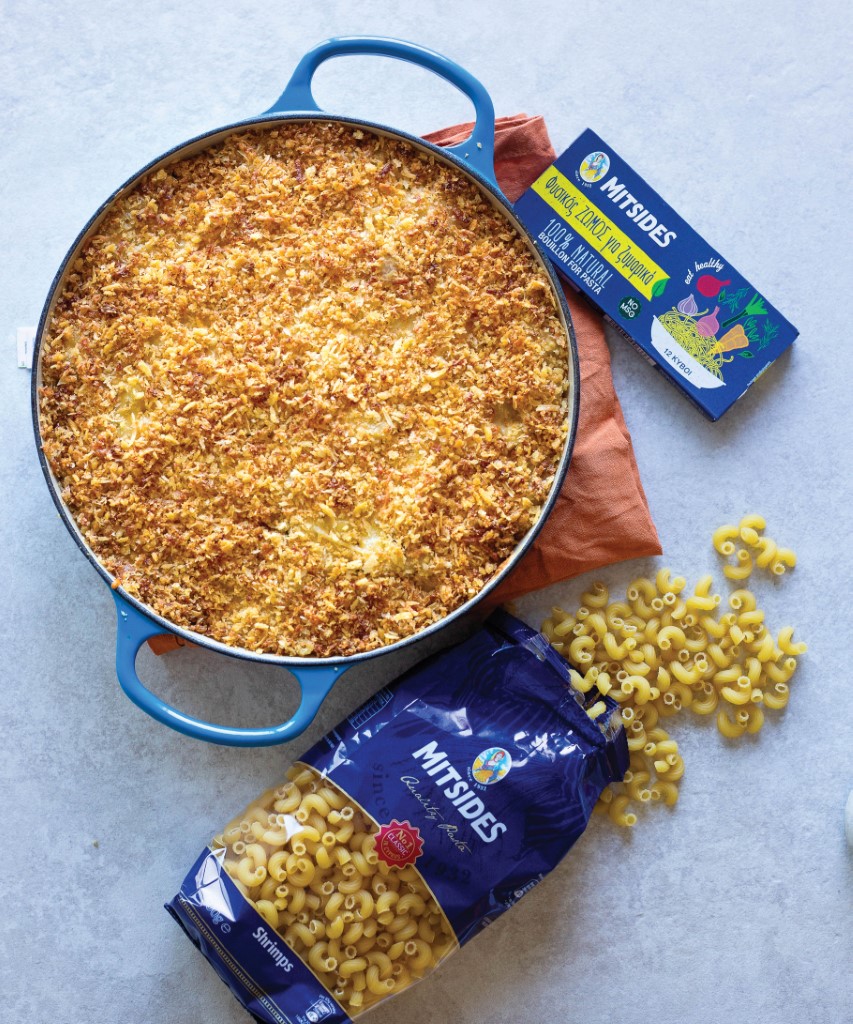 1 pack Mitsides Shrimp pasta
2 cubes Mitsides Bouillon for Pasta
2 zucchini, cut in cubes
1 Tbsp extra virgin olive oil
6 Tbsp unsalted butter
⅓ cup Mitsides All-purpose Flour
3 cups whole milk
1 cup double cream
4 cups cheddar cheese, grated
2 cups Gruyere cheese, grated salt and pepper to taste
1½ cups panko breadcrumbs
4 Tbsp butter melted
½ cup Parmesan cheese, grated
¼ tsp smoked paprika
½ tsp nutmeg
Preheat the oven to 180°C.
Combine the grated cheddar and gruyere cheeses in a large bowl.
In a large frying pan, add the olive oil and sauté the zucchini until golden brown. Set aside.
In a pot with boiling water, add the bouillon cubes. When dissolved, add the pasta and cook for 1 minute less than what is instructed on the package. Drain, drizzle with olive oil and set aside.
Melt the butter in a deep saucepan. Whisk in the flour over medium heat and continue whisking for about 1 minute until bubbly. Gradually whisk in the milk and heavy cream until nice and smooth. Continue whisking until the cream starts to bubble and thicken. Add 2 cups of the mixed grated cheeses and whisk until smooth. Add another 2 cups and continue whisking until creamy and smooth. Stir in the cooked pasta and zucchini until combined and pasta is fully coated with the cheese sauce. Add salt and pepper.
Pour half of the mac and cheese into a large, lightly greased baking dish. Top with the remaining 2 cups of the mixed cheeses and then the add the remaining mac and cheese.
In a small bowl, combine the breadcrumbs, parmesan cheese, melted butter, paprika and nutmeg. Sprinkle over the top of the mac and cheese and bake for about 30 minutes, until bubbly and golden brown. Serve hot!