Aubergine Vegan 'Papoutsakia'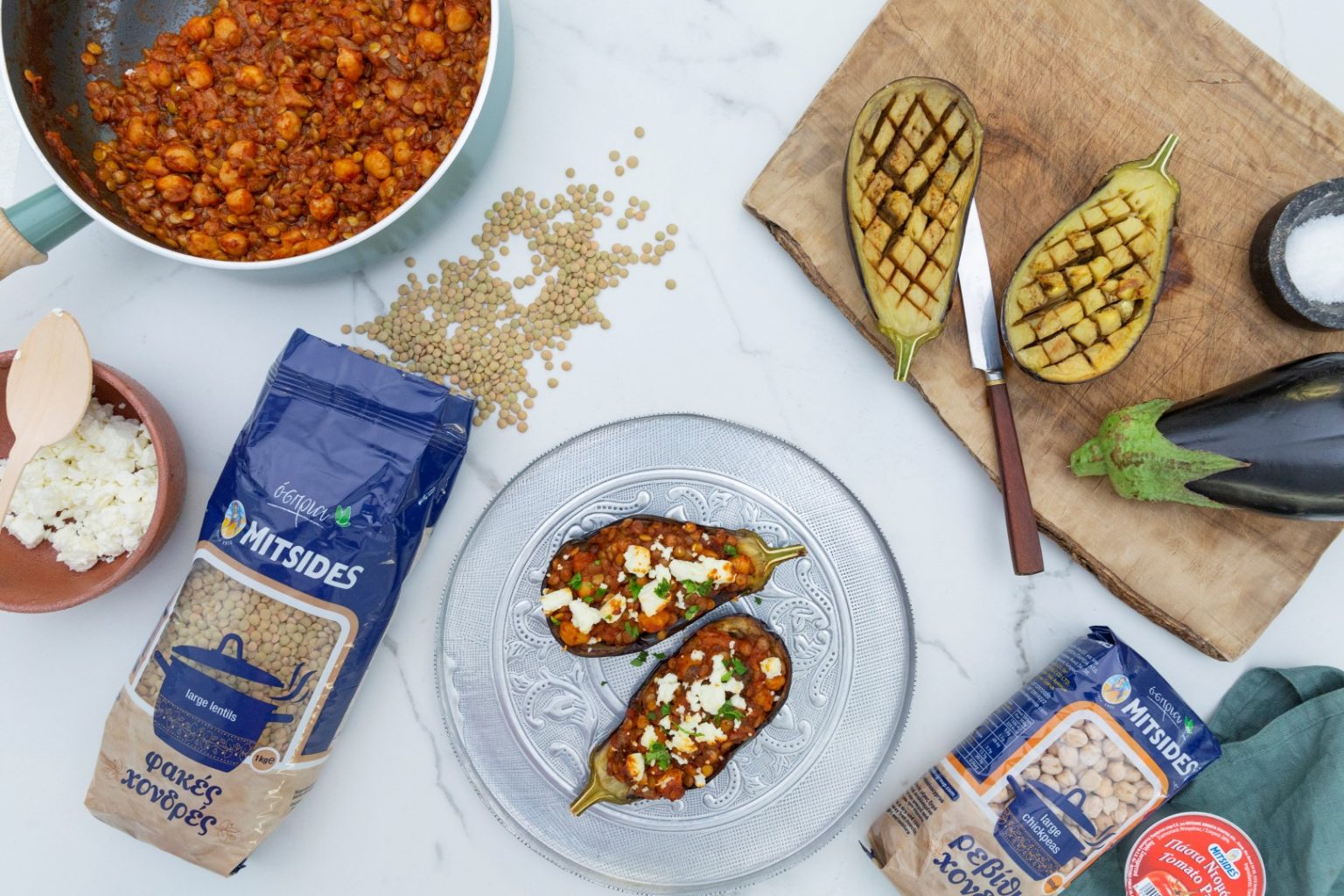 Category:
Oven Dishes
|
Rice & Pulses
|
Vegetarian
2 aubergines, cut in half
1 onion, chopped
1 garlic clove, minced
½ cup Mitsides Large Lentils
½ cup Mitsides Large Chickpeas, soaked
1 tsp Mitsides Vegetable Powder
½ tsp cumin
½ tsp white pepper
1 tsp smoked paprika
½ glass red wine
1 small pack Mitsides Passata (200g)
1 tsp Mitsides Tomato Paste
½ cup feta cheese, crumbled
Salt & pepper
Olive oil
Preheat the oven at 180°C.
Soak the aubergines in water for a few minutes. Remove from the water and pat dry. Using a sharp knife, make shallow cuts in the shape of a grid. Drizzle olive oil on the cut side of the aubergines. Add salt & pepper and rub with your hands.
In a large shallow frying pan add ¼ cup olive oil. Once hot, add the aubergines and fry (cut side down) for 5-6 minutes until charred. Place the aubergines in a baking dish (cut side up) and bake for 30 mins.
Meanwhile prepare the pulses. Boil the lentils and chickpeas separately. Once cooked, drain and set aside.
In a medium sized pot add 4 tablespoons olive oil. Once hot, add the onion and garlic and fry until soft. Add the cumin, white pepper and paprika. Then add the cooked pulses. Mix well and then add the wine, salt and pepper. Once the wine has evaporated, add the passata and tomato paste and simmer for 15 mins.
Once the aubergines are cooked, remove the flesh, chop if needed and add to the sauce with the pulses.
Spoon the sauce mixture into the empty aubergines, top with the feta and return to the oven. Cook for another 15-20 mins, until the feta is lightly coloured.