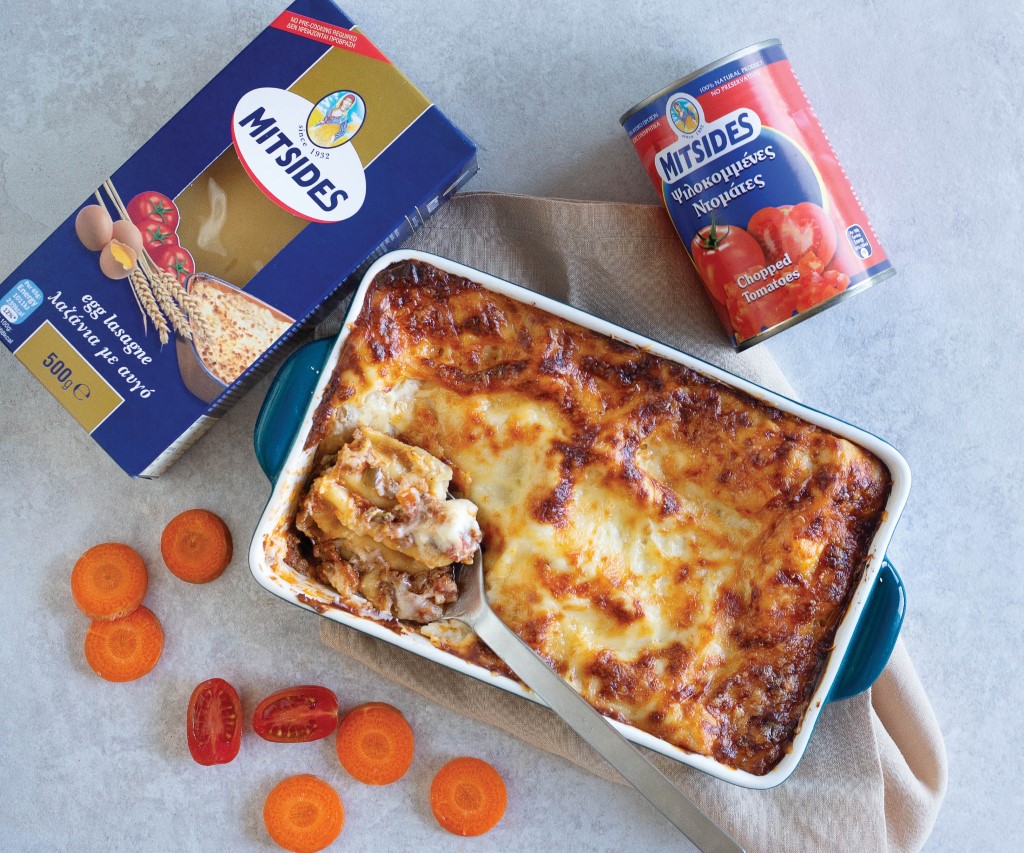 700g minced beef
200g lountza (smoked pork loin), diced
1 onion, chopped
1 carrot, chopped
1 celery stalk, chopped
½ red bell pepper, chopped
½ green bell pepper, chopped
1 can 400g Mitsides Chopped Tomatoes
½ pack Mitsides Egg Lasagne
1 tsp Mitsides Vegetable Powder
1 tsp pepper
½ cup fresh cream
⅓ cup grated parmesan
For the béchamel:
80g butter
3 Tbsp Mitsides Plain Flour
1 ltr whole milk
½ tsp grated nutmeg
⅓ cup parmesan, grated
Salt and pepper
Heat a large skillet and add the lountza with 1 tsp of olive oil. When golden brown, remove the lountza and add the onion, carrots, celery and peppers. Cook until softened. Return the lountza to the pan and add the minced beef. Add the vegetable powder and pepper and cook for 5 minutes. Add the chopped tomatoes and ⅓ cup of hot water. Cover and simmer for 45 minutes. Add the fresh cream, mix and set aside.
For the béchamel, melt the butter in a medium size pot and add the flour, while whisking. Gradually add the milk while continuously whisking. As the milk starts to boil, keep whisking and it will slowly become thicker and thicker. Don't worry if it takes a while. Once thick, add the parmesan, nutmeg, salt and pepper and mix well until the cheese has melted.
Preheat the oven to 180°C and grease an oven-proof dish. Spread one layer of the beef mixture, top with one layer of bechamel and then add a layer of lasagne sheets. Repeat until all ingredients are used up, making sure you end up with a bechamel layer on top. Sprinkle the grated parmesan on the surface and bake for 40 minutes until the top is golden brown and bubbling.