Broccoli and Asparagus pasta shells with almond-parmesan crust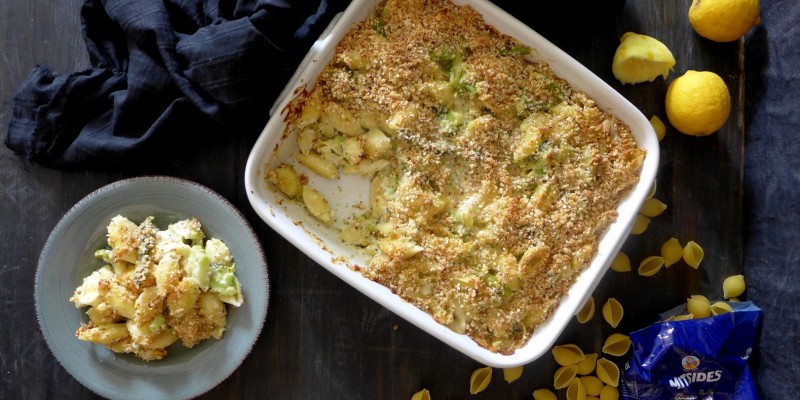 Category:
Oven Dishes
|
Vegetarian
1 medium broccoli (about 400 grams), cut into florets
1 bunch asparagus (about 200 grams), cut into thirds
3 Tbs lemon juice
1/8 tsp chilli flakes
salt and freshly ground black pepper
500 grams «Mitsides» Conchiglie Grandi (large shells)
 
For the bechamel
1 garlic clove, crushed
2 Tbs unsalted butter (50 grams)
2 Tbs all purpose flour
2 ½ cups whole milk
¼ cup cream
½ tsp mustard powder
1 tsp lemon zest
¼ cup cream cheese (I use «philadelphia»)
1 cup grated mozarella cheese
salt and freshly ground black pepper
 
For the topping:
½ cup grated parmesan cheese
1/3 cup fresh breadcrumbs
1/3 cup almonds, chopped in a foodprocessor (don't turn them into almond powder)
2 Tbs olive oil
 
Preheat oven to 175 C. Bring a large pot of water to boil. Add a generous amount of salt. Put a large bowl filled with iced water next to the stove. Blanch the asparagus in the boiling water for 2 minutes until crisp tender. Remove them from the pot using a slotted spoon. Immediately add them to the iced water.
Next add the broccoli florets in the boiling water. Leave them to cook for 5 minutes. While broccoli cooks, remove the asparagus from the iced water and put in a large bowl. After 5 minutes, remove broccoli with a slotted spoon and immediately put in the iced water. Leave for a few minutes to cool. Remove broccoli from the iced water and chop with a knife into smaller, bite size pieces. Mix with the asparagus. Add the lemon juice, chilli flakes, salt and freshly ground pepper.
In the same water you boiled the veggies (it will be green by now), add the pasta shells. Boil for 9 minutes only.
Make béchamel while pasta cooks. Melt butter in a pot over medium-high heat. Add the garlic and cook stirring for a few seconds until fragrant. Add the flour and cook stirring for a minute or so, until it's fragrant and it starts to colour. Add the milk, cream, mustard and lemon zest. Cook stirring for 2-3 minutes until slightly thickened. Add the cream cheese and take off the heat. Stir until cream cheese is incorporated. Season with salt and pepper.
Drain the pasta, discard the cooking water and put back in the empty pot (off the heat). Add the béchamel, veggies and grated mozzarella. Mix everything together and spread in a large, ceramic or glass baking pan (I used a 28 x 33 cm rectangular pan). Taste and adjust seasoning.
In a small bowl mix the breadcrumbs with the olive oil. Add the almonds and parmesan and mix again. Sprinkle topping all over the pasta. Bake for 30 minutes. Serve at once with a leafy green salad.