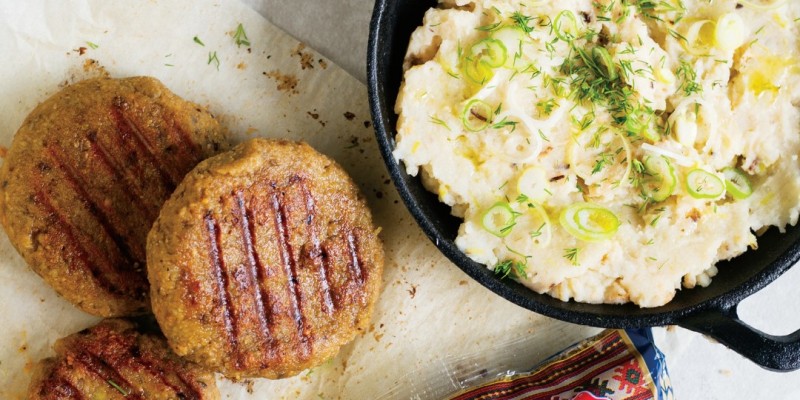 Category:
For Kids
|
Oven Dishes
|
Vegetarian
½ cup Mitsides Bulgur
½ cup lentils
½ cup white beans, cooked
1 red onion, chopped
1 tsp smoked paprika
½ tsp mustard powder
1 tsp Mitsides Vegetable Bouillon
¼ cup almond flour
½ cup breadcrumbs
1/3 cup peas, defrosted
5-6 basil leaves
1 egg, beaten
1/3 cup smoked almonds
Olive oil
Salt and pepper
Preheat the oven to 200°C.
In a medium sized saucepan add 2 cups of water and add the bulgur and lentils. Boil for 10-15 minutes until cooked and water has been absorbed. Let it cool.
In a small frying pan, heat 1 tablespoon olive oil and add the onion. Add the smoked paprika and mustard powder and cook until softened. Let it cool.
In a food processor, add the smoked almonds and onion and pulse. Add the cooked bulgur and lentils, beans, almond flour, breadcrumbs, basil, peas, vegetable powder and blend. Add the egg and blend again until all ingredients are mixed together and the mix looks like a crumbly paste. If the mixture is too soft you can add more breadcrumbs.
Using your hands, take some of the mixture and form each burger. You will get 6 medium sized burgers. Place the burgers on a baking tray lined with parchment paper. Bake in the oven for about 20 minutes until golden brown. Serve with mashed potato, veggie rice or pasta!