Chicken with Ravioles in a creamy mushroom sauce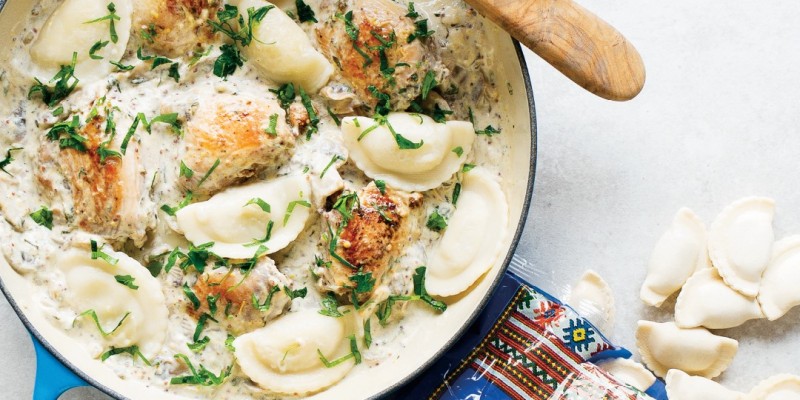 Category:
For Kids
|
With Meat & Poultry
500g chicken thighs, bone and skin off
1 pack Mitsides Ravioles (375g)
1 tsp garlic powder
½ tsp dried thyme
½ tsp dried rosemary
½ tsp smoked paprika
1 Tbsp olive oil
pepper
For the sauce:
1 Tbsp butter
2 cups mushrooms, sliced
1 garlic clove, minced
½ onion, chopped
1 tsp each of  dried thyme, dried rosemary, dried tarragon
2 Tbsp grainy mustard
2 Tbsp parsley, chopped
1 cube Mitsides Chicken Bouillon
1 cup of boiling water
½ cup fresh cream
½ cup halloumi or parmesan cheese, grated
Wash and dry the chicken thighs. In a small bowl mix the garlic powder, thyme, rosemary, paprika and coat the chicken evenly.
In a large skillet, heat 1 tbsp olive oil and add the chicken. Cook each side for 5 minutes until cooked through. Remove from the pan and add butter to the same pan. Add the mushrooms and cook until soft. Add the garlic, onion, parsley, and herbs and sauté for 1 more minute.
Stir in the boiling water, bouillon cube and heavy cream and continue to cook until the sauce has thickened. Add the halloumi or parmesan cheese and mix until the cheese has melted. Add the chicken thighs.
In the meantime, in a medium sized saucepan with boiling water, add 2 tsp Mitsides vegetable powder and cook the ravioles following pack instructions. When ready, drain, add to the large pan with the chicken and mushroom sauce and mix.
To add some greens, while the sauce is boiling you can add small florets of broccoli, peas, zucchini or green beans!