Christmas Vegetable & Chickpea Crumble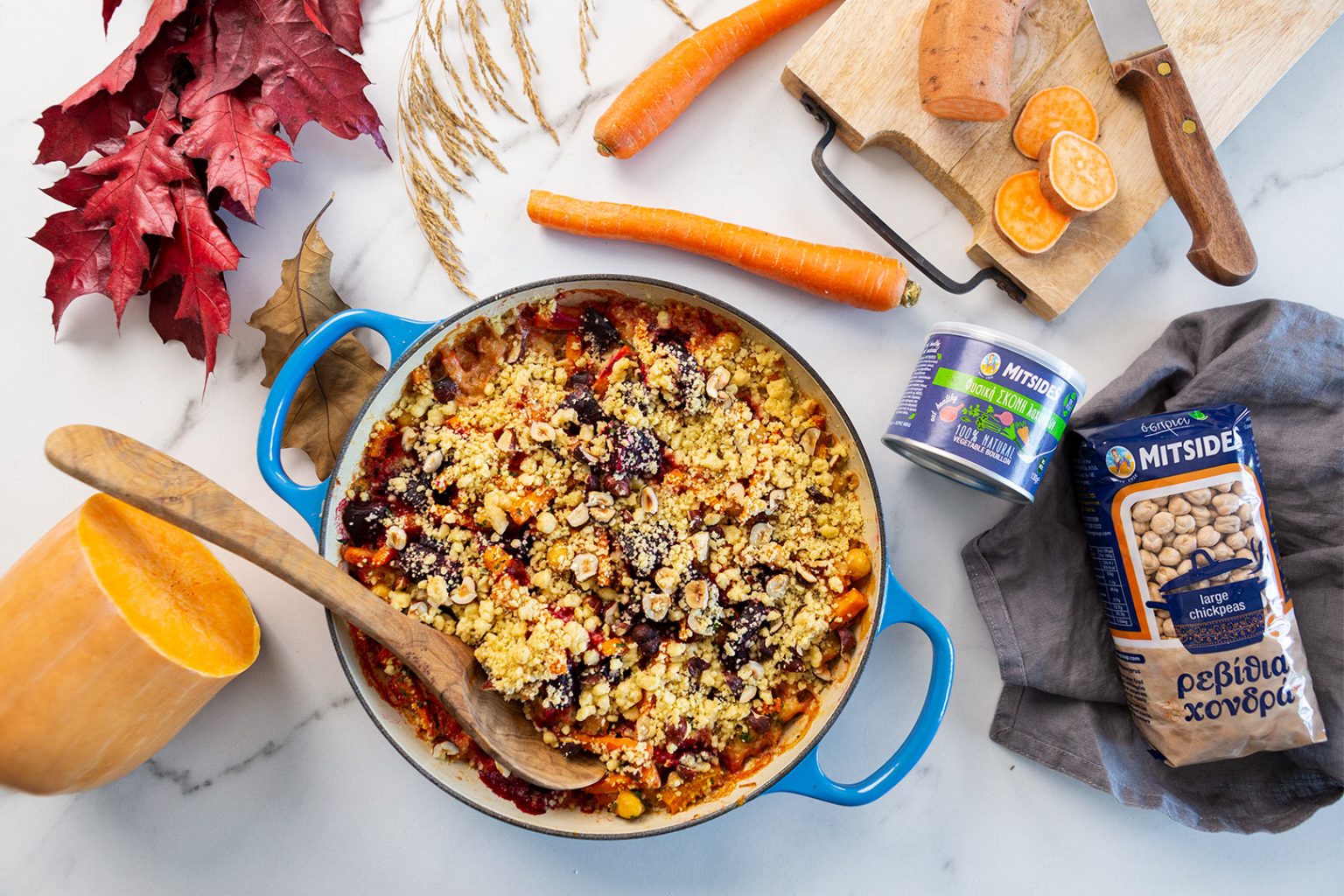 Category:
Rice & Pulses
|
Vegetarian
2 large beetroots
1 cup pumpkin, cut in cubes
1 sweet potato, cut in cubes
2 carrots, cut in sticks
1 knob of butter (2 Tbsp)
2 shallots, sliced
1 tsp fresh ginger, grated
2 tsp ground ginger
100ml double cream
200ml vegetable stock (water + 2 cubes Mitsides Vegetable Bouillon)
½ cup Mitsides Whole Chickpeas, cooked and drained
Handful of fresh parsley, finely chopped
For the crumble:
⅓ cup Mitsides Plain Flour
40g unsalted butter, cubed
30g hazelnuts, roughly chopped
Preheat the oven to 190°C. Wrap the beetroot in foil and roast for 30-40 mins until soft. Once ready peel and cut into large cubes. (We advise you to use gloves!)
Meanwhile, in a pot boil the pumpkin, carrots and sweet potato in salted water for 3-4 mins and then drain.
In a small bowl prepare the crumble by rubbing the flour and butter together with your fingers until they resemble breadcrumbs. Mix in the hazelnuts, season well and set aside.
Heat a small frying pan and melt the butter. Add the shallots and cook for 2 mins until tender. Add the drained pumpkin, sweet potatoes and carrots and cook for 5-10 mins. Then add the fresh ginger, ground ginger, vegetable stock and cream and cook for another 5 mins. Add the cooked chickpeas and mix. Then add the beetroot and parsley and mix again. Remove from the heat and place everything in an ovenproof dish. Add the crumble on top and bake in the oven for 20-25 mins until golden brown on top.