Conchiglie grandi with octopus and pepper sauce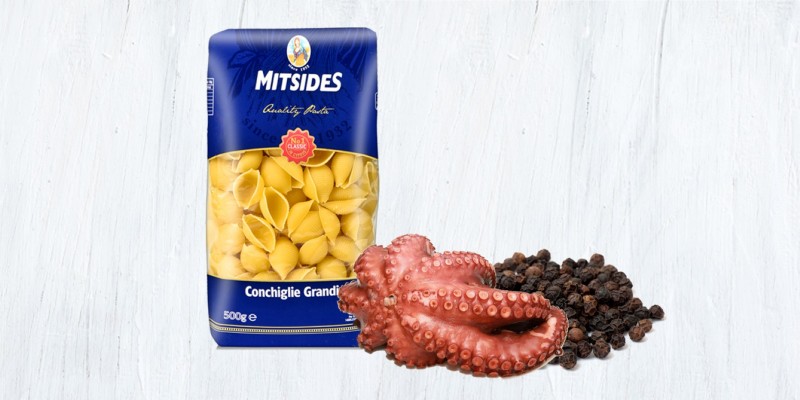 1 pack Mitsides Conchiglie grandi 500g
1.5 kg Octopus
2 tablespoons pepper sauce
½ cup fresh cream
½ cup chopped onion
2 garlic cloves, chopped
1 cup vinegar
2-3 bay leaves
For the Pepper sauce:
200 gr black pepper
2 tablespoons honey
2 tablespoons brown sugar
½ -1 cup warm water    
Make the pepper sauce: Mix all ingredients together in a blender and adjust the consistency of preference with water. Set aside.
Wash the octopus and place it in an oven tray, with the vinegar and bay leaves and cover with aluminum foil. Let it cook in the oven (180⁰C) in its own juice for 1.5 hours. When cooked, cut into small pieces.
Cook the pasta following pack instructions. In a sauté pan, heat the oil and sauté the onion and garlic until translucent.
Add 2-3 tablespoons of pepper sauce, the octopus and fresh cream. Let it cook for a minute. Add the pasta and let it cook for another minute and serve.