Creamy farfalle with salmon and mustard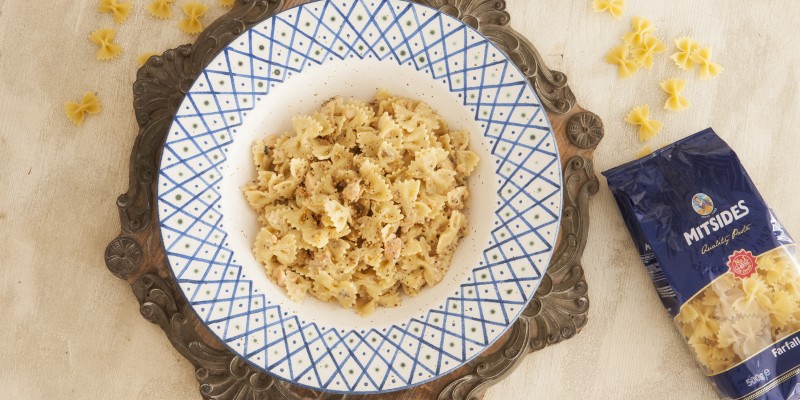 1 Pack MITSIDES Farfalle (500gr)
2 Salmon fillets (skin on)
2 Tbsp honey
1 Tbsp Dijon mustard
1 Tbsp wholegrain mustard
1 red onion, finely chopped
1 Tbsp mustard seeds (yellow or black)
½ cup white wine
¾ cup double cream
Olive oil
salt and pepper
Place the salmon (skin side down) in an oven proof dish lined with parchment paper. Spread each fillet with one tablespoon of honey. Add pepper and bake in the oven (180⁰C) for about 10-15 minutes until the salmon is almost ready (it will still be lightly pink in the middle). Remove from the oven and break it with a fork into chunks.
In a saucepan with plenty of salted boiling water, cook the pasta following pack instructions. Meanwhile, in a large frying pan heat 2-3 tablespoons of olive oil and fry the onion with the mustard seeds. When the onion has softened, add the wine and allow it to reduce. Add the mustard, cream, salt and pepper and stir well. Then add the salmon.
Drain the pasta and add it to the sauce together with 1-2 tablespoons of the pasta water. Combine the pasta with the sauce and serve in deep plates.