Cyprus Ravioli with Pea and Mint pesto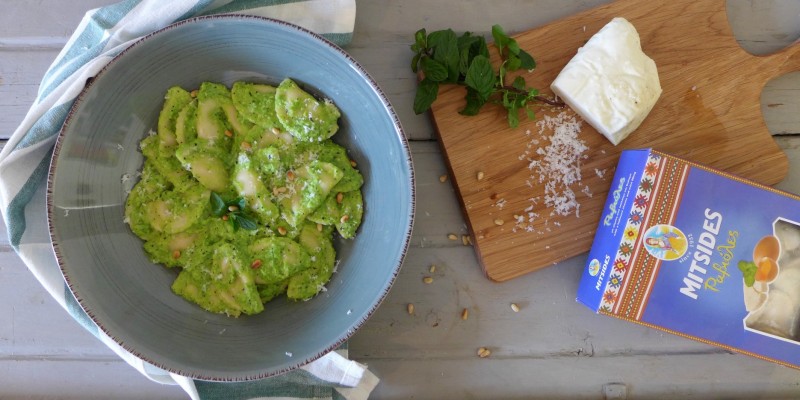 1 x 375 grams pack "Mitsides" frozen ravioli (blue label)
2 cups frozen peas (250 grams)
1 garlic clove
1/3 cup pine nuts (45 grams)
2 Tbs grated halloumi cheese
4 Tbs grated parmesan cheese
3 Tbs fresh mint leaves
¼ tsp black pepper
1/3 cup olive oil
Bring a medium pot of water to boil. Add the frozen peas and cook for 5-6 minutes until tender but not mushy. Drain well.
Put in a blender the peas, garlic, pine nuts, halloumi, parmesan, mint , black pepper and olive oil. Blend until fairly smooth.
Bring a large pot of salted water to a boil. Add  the "Mitsides" ravioli, straight from frozen and cook for 12 minutes. Drain (keep about ½ cup pasta cooking water) and mix with some of the pesto. Add water by the tablespoon if pasta seems too dry. Serve at once with a light sprinkling of grated halloumi and pine nuts.