Cyprus Tortellini Carbonara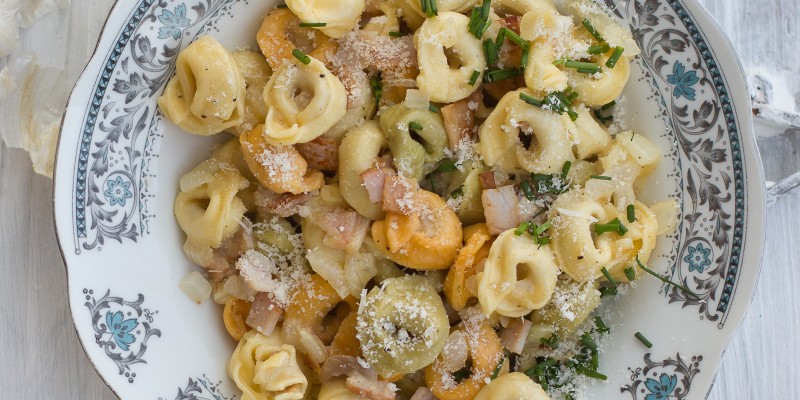 Category:
With Meat & Poultry
1 pack Mitsides Tortellini Tricolore
½ tbsp olive oil
6-8 slices of lountza, cut into small squares
1 small onion, finely diced
2 large garlic cloves, finely diced
1 cup (heaped) finely grated parmesan cheese
2 eggs
1 tsp freshly ground black pepper
Salt to taste
Freshly ground black pepper, diced chives and parmesan cheese as garnish
1. Cook the tortellini in salted water, according to the instructions on the pack.
2. Meanwhile, heat the olive oil in a pan. Add the lountza to the pan and fry until lightly brown. Add the onion and garlic and stir to combine. Cook until the onions have become translucent. Add salt to taste.
3. Add the cooked and drained tortellini to the pan and stir. Remove from heat and keep warm.
4. In a small bowl, whisk the eggs together. Add the grated parmesan cheese and black pepper and stir to combine.
5. Pour the egg-parmesan mixture over the tortellini in the pan and stir quickly to cover the tortellini. Continue to stir as the cheese melts so that the tortellini is evenly coated. The heat from the pasta is enough to cook the eggs.
6. Garnish with diced chives, more black pepper and grated parmesan cheese.