Fusilli with roasted cherry tomatoes and feta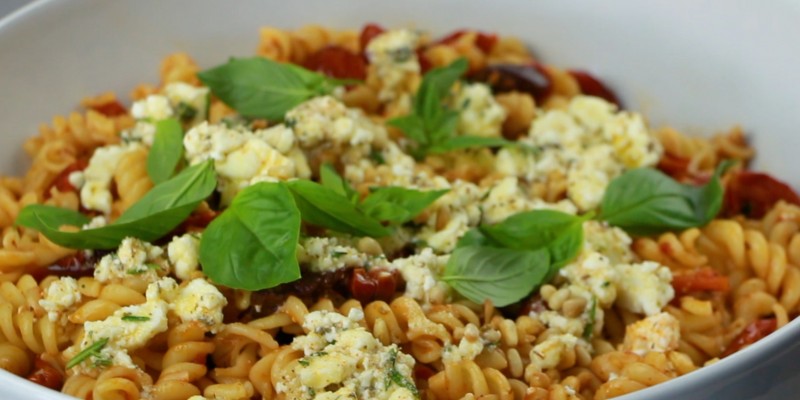 To roast the tomatoes
500 grams cherry tomatoes, halved
¼ cup olive oil
some dried oregano
 
To marinade the feta
200 grams feta cheese, crumbled
1 tsp dried oregano
1 rosemarie sprig, chopped
1 tsp fresh thyme leaves
¼ tsp chilli powder
about ½ cup olive oil
 
To make the pasta
500 grams Mitsides Fusilli
2 Tbs olive oil
2 gralic cloves, crushed
½ cup white wine
400 grams Mitsides chopped tomatoes
1/3 cup black olives without seeds
3 Tbs roasted pinenuts
Salt and Pepper
Marinate the feat: Put feta in a bowl and add the remaining ingredients. Mix gently, cover with plastic wrap and leave to marinate in the fridge for up to 24 hours.
Roast the cherry tomatoes. Preheat oven to 175 C. Put cherry tomatoes in a baking pan, cut side up. Drizzle with the olive oil, season with salt and pepper and the dried oregano.. Roast 35 to 40 minutes until soft. Set aside until needed.
Make the sauce while tomatoes roast. In a large skillet add the olive oil over medium heat. Add the garlic and cook stirring until soft. Pour in the wine and increase the heat to high. Let it evaporate for a minute and add the chopped tomatoes. Season with salt and pepper. Simmer uncovered for about 5 minutes until sauce is slightly thickened.
Make the pasta. In a large pot of boiling, salted water, add the pasta. Cook 1 minute less than the package instructions. Drain but keep some of the water to thin the sauce if needed.
Throw cooked pasta in the skillet. Mix with the sauce and cook for a minute longer. Add the olives, roasted tomatoes and half the feta with its marinade. Take off the heat and mix. Transfer pasta in a serving platter. Scatter the remaining feta on top and sprinkle with the pine nuts. Serve.