Galette with goat's cheese, cherry tomatoes and fresh herbs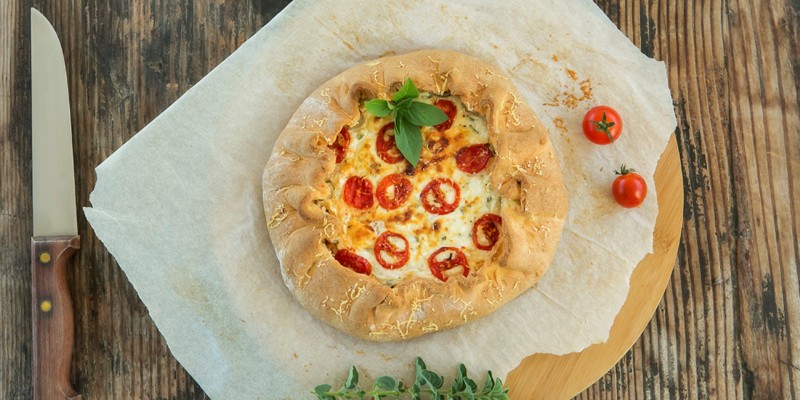 Category:
Breads & Doughs
|
Oven Dishes
|
Vegetarian
For the dough:
½ cup plain flour Mitsides (farina "00")
½ cup Mitsides Self-Raising Flour
½ tablespoon Baking Powder
⅓ cup unsalted butter
⅓ cup yoghurt (strained)
¼ teaspoon baking soda
For the stuffing:
200g. soft goat's cheese
¼ cup. soft anari cheese 
4 tablespoons milk
1 clove garlic, toasted and crushed
1 tablespoon Mitsides tomato paste 
10-15 cherry tomatoes, sliced
2 tablespoons basil leaves, chopped
1 tablespoon oregano leaves, chopped
1 tablespoon fresh thyme
2 tablespoons grated Parmesan cheese
1. Preheat oven to 180 ° C.
2. Place all of the dough ingredients in the mixer and mix until a smooth dough is formed. Adjust flour and yogurt quantities, depending on whether it is moist or dry. Form the dough into a ball, cover with cling film and leave to rest for about 20 minutes.
3. In a bowl, put the goat's cheese, the anari, milk and garlic and mix well until all ingredients have combined. Add the chopped herbs, salt and pepper and mix again.
4. Remove the seeds from the tomatoes to avoid making the dough moist.
5. On floured surface, open the dough sheet into a round shape. Brush the base with tomato paste, then add a layer of the cheese mixture, spread a few cherry tomatoes on top and repeat with another layer of cheese. Finish with a few cherry tomatoes.
6. If there is excess dough around the filling, trim the edges of the dough, leaving about 5 cm. Then fold the dough towards the center of the pie, leaving space in the middle for the stuffing to be exposed.
7. Sprinkle over the entire galette some grated parmesan and bake in the oven (on baking tray with greaseproof paper) for about 40 minutes or until the dough and cheese turns golden brown.
8. When ready, remove from the oven, decorate with basil leaves and serve.