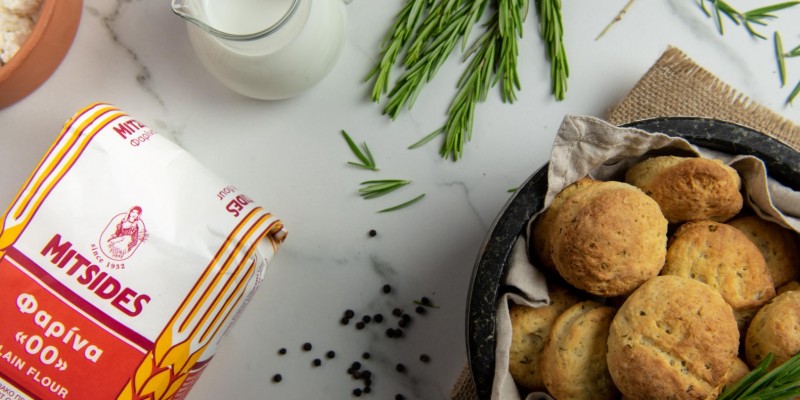 Category:
Pastries & Sweets
2 Cups Mitsides Plain Flour
1 Tablespoon Baking Powder
1 Tablespoon sugar
¾ teaspoon salt
½ teaspoon black pepper
3 Tablespoons unsalted butter, very cold
¼ cup fresh rosemary, chopped
200g fresh goat cheese, crumbled
1 cup heavy cream
Preheat the oven to 200°C. Line a large baking tray with parchment paper.
In a large bowl combine the flour, baking powder, sugar, salt, and black pepper. Whisk well to combine. Using a large cheese grater, grate the butter into the dry ingredients. Using your fingertips, rub the butter into the mix, until you have crumbles.
Stir in the rosemary, then add in the goat cheese and the cream. Stir with a fork just until a messy and sticky ball is formed. Transfer the dough to a floured surface and knead (with floured hands) until the dough becomes smooth and forms a ball. Roll out the ball down into a 2 cm thick layer, then use a biscuit cutter to cut out as many rounds as possible, re-rolling the scraps as needed.
Place the biscuits on the prepared baking sheet and bake for 15-20 minutes, or until golden brown. Eat at once!